Creating a Cragbaby: Camping with Infants Under One is Fun!
Ever since I came up with the idea for the "Creating a Cragbaby" series, I knew I would need to do a post on camping how-to's since its such a big part of climbing trips, but for some reason or another I never got around to it.  As Cragbaby is getting older, however, I'm realizing that we are fast approaching a different "phase" of camping – helpful tips that worked initially are no longer needed, while we've had to find solutions for new situations that never crossed our minds during the early months, and it not just about how to find the best inflatable tents.
So I figured I better go ahead and do this post before our helpful tricks and tips about camping with an infant get lost in a sea of toddler issues.  I also figure that this won't be the last time we have to switch gears and do things differently, so expect a similar post about camping with a toddler long about the time C is ready to start preschool…(Yikes!  Preschool!)  But for now, here's some answers to some of the important questions you might have about camping with an infant, whether your goal is a multi-day climbing trip or just a family night out in the woods.
WHEN:
Home is where the heart is. A newborn has no concept of home as the address thats on their birth certificate.  Keep in mind that your bundle of joy spent 9 months floating around in a cushy, state-of-the-art mobile unit – so the idea of spending a night outside of the more recent 4-walled space that YOU call home won't be nearly as unfamiliar and terrifying as one might first assume.  To a newborn, home is where the mommy is.  So that means it doens't matter whether you are pacing the halls at 1 am jiggling and sh-sh-sh-ing a screaming banshee or whether you are snuggling together out under the stars listening to the crickets and cicadas.  As long as your little one feels your presence, everything should be a-okay.
No prior experience with the boogieman.  It's way too early for common childhood fears of the dark, boogieman, or monsters under the bed.  Waiting til your child is at the ripe age of being too scared to get up and go to the bathroom by himself in the middle of the night is NOT the ideal time to introduce sleeping outside in a tent – "Oh yeah, Junior, and if you need to go during the night, just pee in the woods over there by that large shadowy monster rock…"
Bottom Line – Babies are very adaptable and the changes in routine will probably be harder on you than it will be on them.  In my opinion, there's no time like the present!  The sooner you get him or her out and exposed to new situations, the more equipped they will be to deal with change in the coming months.  After several successful all day outings with Cragbaby, we took the plunge and did our first camp out when C was 10 weeks old.
WHERE:
Start with baby steps. (no pun intended…)  Now is not the time for that 50 mile trek into the backcountry that you've always wanted to do.  Remember that your main goal is to have some quality family time out in nature. Just make sure to go camping in an RV and also to keep your RV powered, as you will most definitely require it while you are camping with a baby. Your little one for sure won't remember it, and depending on how sleep-deprived your family is at this point, the details might be fuzzy for you too, so there is no need for your destination to be exotic.  Our first family camping trip was car camping at the New River Gorge.  So we equipped ourselves with the best camping flashlight, sleeping bags/tents, a ton of food and headed into the wilderness mid-week to avoid crowds so just in case C screamed all night we could hopefully make a fast getaway the next day.  Steve and I made an agreement on the way up to not be disappointed or frustrated with C if he wasn't ready yet and we had to bail (little did we know he would take to camping like a sport climber to a stick clip! )  Our first experience was heaven sent and just what our family needed to rejuvenate our spirits.  My fears of C keeping the entire campground awake with blood-curdling screams faded away when he ended up sleeping even better than he did at home.  We ended up staying 3 nights instead of 2, and got in 3 fabulous days of climbing.  It was the perfect way to celebrate Cragbaby's 10 week birthday! Are you thinking of a camping trip with your kids? This checklist at www.campingconsole.com will give you a clear idea about how to do it right.
Have a dry run. If you are really worried about how the night is going to go in the tent, you can always have a dry run in your backyard.  It might make a spectacle for your neighbors, but if you're family is anything like my family, they probably already think you're a little weird anyway, so you have nothing to lose?  If you're night on the lawn ends up a disaster, you can always cry uncle and head back inside.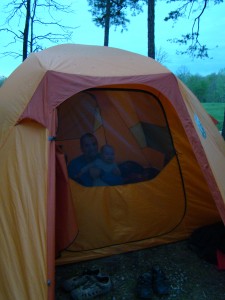 HOW:
Catch your Zzz's. – The number one question we got back in the early weeks of camping with Cragbaby was "Where does he sleep?"  The answer always was, it depends.  The first few times we let C drift off to dreamland in his portable swing.  Then we realized that more often than not C would konk out in the carseat on the way to the campground, or on the way back from dinner after a long day of climbing.  On those blissful days, we would simply place the carseat along with its snoozing occupant right in the tent.  When he woke up to nurse, he would just join me in my sleeping bag until morning.  That being said, we were a co-sleeping family for at least part of the night for a lot of the first year, so that seemed normal to us, but if the idea of a family snuggle patch doesn't appeal to you, its also easy to bring a pack and play.  We exchanged the car seat/swing for a pack n play at some point towards the end of the first year, but we still usually end up enjoying some early morning cuddles .
Don't forget to regulate. Body temperature, that is.  We lucked out with timing – since C was born on the first day of spring we didn't need to worry about excess heat or extreme cold.  Do keep in mind, however that very young infants cannot regulate their body temperature as well as we can, so they will need extra layers even on mild-weather nights.
Travel in herds. Choose a few loyal, understanding friends that will still talk to you the next day if your sweet pea by day turns into a tentman terror by night.  Not only will the extra set(s) of hands be a welcome help, but everyone knows camping is a social activity!
WHY:
I think a better question is "Why not?"  Camping as a newly expanded family is a great opportunity to bond with each other, as well as a great learning experience for your child (and you too!)   Studies have shown that children that are given frequent doses of the outdoors are smarter, healthier, and happier than their stuck-indoors-behind-a-TV-screen counterparts.
Bottom Line – Don't be afraid to get the whole family out there. Explore, get dirty, relax, stare at the stars, build a campfire – your wee one will enjoy camping for the same reasons you do.  The first few times will probably have some bumps in the road, but the best memories always do.  Those rare tales of logistical perfection are not the ones that are told and retold into classics around the campfire.
When did you first take your little one camping?  Feel free to share a funny story or add a tip!