A Wishlist for Cragbabies (and Cragmamas, too!)
I've said time and again that one of my main hopes for this blog is to inspire other families to get outside and teach their kids about the value of adventure.  Armed with a sense of humor, a dash of patience and some high quality gear, our family has learned to adopt the motto that "There is no bad weather, only bad clothing!"  So what are the all-weather must-haves for the average, run-of-the-mill adventuring family?  While it may be true to some extent that you get what you pay for, the budget-conscious among us will hopefully be pleasantly surprised at this combination list of items that our family swears by, as well as items we're hoping to find under the tree this year!  So here's  a list of the top 5 items that your Cragbaby probably won't ask for specifically, but would for sure request if he'she only knew the fun and adventure they represented!  (Oh yeah and I also included links to everything for your online shopping convenience!)
Bunting – Cragbaby was lucky enough to acquire a fair amount of his outdoor gear as hand-me-downs for the majority of the first year.  One such item was a down suit from REI
.  (Picture a big puffy sleeping bag with legs…).  It was a 12 months size, but we started using it as C's "sleeping bag" when the weather first started turning cold, and he was only 6 months.  We used it that whole winter/spring, and even made it all the way through the following fall when C was 18 months (although I will admit that the last few times I was amazed that we were able to get it zipped…).  Now, at 20 months, his arms and legs are too long to utilize the fold over feature that covers his hands and feet, but it still works out just fine as outerwear for chilly mornings/evenings at the crag.  The largest size this particular suit comes in is 18 months, so for Cragbaby's Christmas List this year we decided to upgrade and splurge on a bunting made by Molehill, which we are thinking should last us through another couple of seasons of cold weather fun until C is ready for his own big boy sleeping bag.  In our experience a warm bunting is among our most-used pieces of gear – if the temps are under 50, we never leave home without it!
High-Quality Baselayer – You don't like to wear cotton long underwear (it traps the sweat on your skin and makes you feel cold from the inside out), so why should your cragbaby?  Yes, a high quality wicking fabric such as merino wool is expensive, and true your kids are growing like weeds, but if your kid is cold and wet, the whole family will be miserable.  Our family's baselayer favorites are Icebreaker and Polarn O. Pyret.  In the interest of full disclosure I must mention that we recieved our Icebreaker gear for free, but I can assure you all that I would never recommend a product that I didn't have first hand experience with as a superior product.  Both companies use merino wool, which is amazingly soft, breathable, and still wicks away moisture to keep you warm and dry.  Take advantage of the gift-giving season to splurge on a nice set of long john's for your tyke.  If budget is an issue, you can probably get away with just one pair – if it means they are so dirty by the end of the weekend that you have to peel them off of your child, keep in mind the mantra "God made dirt, dirt don't hurt."
Chalkbag – Non-climbing families might be tempted to skip over this suggestion, but a chalkbag can be an excellent asset to any outdoor family's gear stash, regardless of whether you own a harness or have ever tied into a rope.  A sweet and creative friend of mine actually crocheted us a baby-sized chalkbag as a shower gift before C was born, and we of course clipped it onto our backpack carrier, initially just for giggles and a conversation piece.  However, we've since come to realize that its actually pretty handy to have a free-swinging, removable container that your toddler can open and close on their own.  When C was little we used it for easy access burp cloths and teething rings – nowadays its the perfect nook to stuff important toddler things like rocks, sticks, and matchbox cars.  You can get a chalkbag anywhere that climbing gear is sold, but
here's
a cute one for kid's with a bear paw on it.
Personalized Adventure Books – So your family has set a precedent of Adventures R Us – and now you've got about a million photos to rotate through the 10 picture frames around your house.  A better solution?  Make a personalized photo book of your family out adventuring together (if you've got older children, it would make a great family project!)  If your cragbaby is anything like mine, he/she loves to read books that feature pictures of real people and children participating in everyday activities.  Last year I made a photo book entitled "Let's Go Climbing," for Cragbaby to read in the car to and from the crag – it was an illustrated step-by-step story of what a typical climbing weekend involved.  He's ready and informed about what we're getting ready to do, as well as picked up some important (for our family, anyway) vocabulary.  I also made a book for my nephew last Christmas that taught him names and titles of each family member, and just recently my brother-in-law told me the book has turned into a favorite family bedtime story!  I've always gotten my books at Shutterfly
– you can design your own from scratch or choose from any number of templates.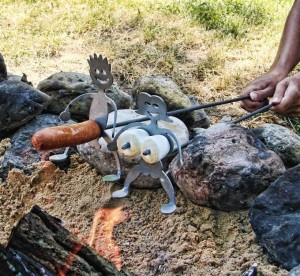 Anatomically Correct Campfire Cookers – Ok so they are ridiculously funny…if perhaps slightly inappropriate for a family camp-out, but I laughed so hard when I saw these roasting sticks that I couldn't resist including these on the list.  There isn't really much to say about them since they pretty much speak for themselves, but I will say that if you like the idea but are looking for an option that focuses less on naughty and more on nice, the same company (Roast My Weenie) also makes a cute little elephant roaster, where the hot dog becomes the elephant's trunk rather than wishful thinking.  🙂
My list is a good place to start, but if you still have more gifts to buy (and an itchy clicker finger!) check out these other gift lifts from a few of my favorite outdoor blogger mamas!
Brave Ski Mom: Suggestions for Skiing Families
Velo Mom: Family Holiday Gifts for Cyclists
OutsideMom: Outdoor Gifts for Families
Mountain Mama Tales:  Great Kids Gear (Adventuring for Christmas)
Bring the Kids: Christmas Gift Ideas: The 5 Pieces of Gear We Take Everywhere