Why You Need a Pair of Tenayas in Your Climbing Shoe Quiver
When I found out a few months ago that Tenaya would be joining Trango under the Great Trango Holdings, Inc umbrella, my first thought was, "YES!!!  Free shoes!"  But then my second thought was, "Geez, what if I don't like them?!?"  I mean let's be honest here.  Though at first glance many climbers may seem like easy gear junkies who will try anything and everything if its free, the majority of our flirtations with gimmicky swag is just temporary before we toss it aside in favor of our old stand-by gear.  And there's probably no piece of climbing gear that is more personalized to a climber than their shoes.  They have to fit perfect.  They have to perform perfect.  Well, maybe not ABSOLUTELY PERFECT.  Then we wouldn't have anything to blame our botched send attempts on but ourselves…
Anyway, the bottom line is that I was admittedly a bit skeptical about committing to some new shoes I didn't know anything about.  But I'm so glad I did because now I can honestly say I don't want to climb in anything else.  (And that is the cold hard truth, NOT the Trango kool-aid talking…while I did get my shoes for free, the following is my honest, unbiased opinion.)    So what is it about Tenaya that makes me willing to kiss my Miuras good-bye without so much as a parting glance?
1.  EXPERIENCE:  Just because you hadn't heard of them in the US until a few weeks ago at the Outdoor Retailer show doesn't mean Tenaya is a rookie company.  Founded in 1997 by one of the lead designers of Boreal, these guys have been blowing up all over Europe for the past 5 or 6 years.  Not to mention their headquarters is in Southern Spain…which, in case you've been living under a rock for the past few years, is kind of a hot bed for climbing.
2.  PERFORMANCE:  Now granted, my biggest pre-Tenaya numbers didn't contain a 4 (or even a 3 for that matter…), and (surprise, surprise), none of my recent Tenaya sends have either.  I'm not trying to make outlandish claims that these shoes will  automatically make you jump a number grade.  But I will say that my Tenayas have performed consistently well on a wide variety of terrain and rock type.  The fact that I onsighted my hardest (by 2 letter grades) route to date a couple of onths ago in the Tatankas solidifies my confidence in the brand.
3.  COMFORT:  Obviously, the proportion of "comfort" to "performance" depends on how you like to size your shoes, but I think Tenaya has done a fantastic job of offering the best of both worlds.  My performance-sized shoes fit my feet like a glove – tight, but not too tight.  I wouldn't want to walk around in them all day, but my feet aren't screaming at the top of every pitch.  My larger, comfort-sized shoes are great for multi-pitch or long gym sessions, but are still reliable enough to edge on a dime when I ask them to.  
That being said, the only remaining question is WHICH PAIR(S) DO I GET?!?  Here's a run-down of Tenaya's 2012 offerings…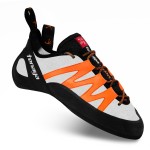 TATANKA – 
 What Tenaya Says:  A high-performance shoe designed to take maximum advantage of the biomechanical properties of your feet for optimum performance.  
What Cragmama Says:  These are my go-to shoes on hard routes, especially on steeper rock. I have "duck feet" – wide forefoot with a narrow heel, so often I am either dealing with shoes that are too loose in the back or too tight in the front, but the fit on these is absolutely amazing, without a doubt the best fitting pair of climbing shoes I've ever had.  When I put them on it feels as though they specifically conform to my foot, with hardly any break in time.  The neoprene tongue on the side of the shoe makes for easy on and off, even in my tightest pair.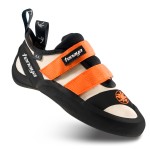 RA – 
What Tenaya Says:  Maximum technical performance meets ease of use and comfort.  This shoe provides the ideal balance between stiffness and sensitivity.  
What Cragmama Says:  If you are looking for one multi-purpose shoe, this is it.  I honestly never liked velcro shoes before these, as the fit was never quite right, but Ive been surprisingly happy with these.  My heels have a little more room in the Ra's than the Tatankas, but I haven't had any trouble with my heel slipping.  The Ra's are also a little stiffer than the Tatankas, and are trustworthy on just about any foothold, whether it's smears, edges, or tiny pockets.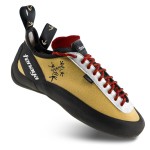 MASAI – 
What Tenaya Says:  Tenaya's best-selling shoe, the Masai is a balance between technical excellence and aggressive force, and this balance is why the Masai is the ultimate shoe to climb, well, just about anything! 
What Cragmama Says:  These shoes are reminiscent of a stiff, technical shoe such as the Anasazi Verde, and are a great choice for vertical faces.  This shoe is significantly lower volume than the Ra or Tatanka (awesome for anyone with narrow feet!), so keep that in mind when sizing.  Because of my duck feet as well as the fact that I'm using mine mostly for multi-pitch, I got these in a full-size larger than my Tatankas.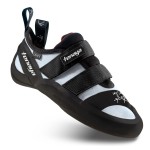 INTI – 
What Tenaya Says:  Sharing some of the best features of the Ra, the Inti employs an asymmetrical last to put your toes at an ideal attacking angle to generate high forces in the shoe's "sweet spot," while maintaining ultimate sensitivity to the rock.
What Cragmama Says:   These shoes are very similar to the Ra, just not as sexy looking.  They also have a softer mid-sole, so they are ideal for slabby climbs requiring a lot of smearing, or wearing for an entire session at the gym without making your toes go numb.  
So where can you get them?   Well, if you're a local Charlotte-an you can buy them  at the Inner Peaks Climbing Center' – Inner Peaks was lucky enough to get in on the action pretty early as the very first US Tenaya dealer – and more vendors are being added to that number every day!  Inner Peaks will be having a shoe demo sometime in October (stay tuned for details!), and there will also be free demos going on at the Red River Gorge Rocktoberfest the first weekend in October, and at Triangle Rock Club on October 21st!  If there's not a location near you that carries them, you can order them directly from the Trango website.  
Has anyone else tried Tenaya?  If so, which shoe and what did you like and dislike?