FINISH STRONG! (aka #FinishStrong2012 )
p>While the holidays can be an exciting time, it can also wreak havoc on our everyday schedules, priorities, and goals.  Constant holiday hubbub can make it darn near impossible to find some down time for yourself.  Chaos ensues as we desperately try to balance our budgets with our Christmas spending.  We put exercising on the backburner as we hastily get ready for the holidays.  Gingerbread men, snowflake cookies, and eggnog are routine appearances at work and social gatherings, making it very difficult to make healthy food choices.   And let's be honest, it's easy to let things slide here at the end of the year, especially when we have NEW YEAR'S RESOLUTIONS to look forward to in just a few weeks, right?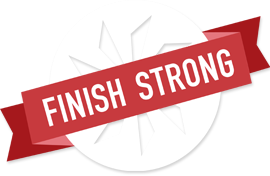 Well the folks at Athleta have decided not to wait for the New Year to make resolutions.  They just rolled out a unique giving campaign that not only will raise thousands of dollars for Girls on the Run, but also motivate participants to FINISH STRONG in the last few weeks of 2012.  Girls on the Run is a non-profit organization that uses running to inspire and motivate girls, encourage lifelong health and fitness, and build confidence through accomplishment.  Athleta is the exclusive athletic apparel sponsor of the program, so not only do these girls feel good, but they look good too!  
So how does this campaign work?  Very simple.  There are two ways to participate in FINISH STRONG:
1.  Go to the Athleta facebook app and make a pledge, like a pledge, and/or share a pledge.  For each action you take, Athleta will donate $1 on your behalf up to $10,000 to Girls on the Run!  There's even a donation meter on the left-hand side of the page adding the dollars up in real time!
2.  For Twitter users, tweet a goal with the hash tag #FinishStrong2012, and encourage your followers to retweet.  Each instance of that hash tag will add another $1 to the donation meter.  
Got a goal you've been holding out on for New Year's Day – why not get a head start on it?  There's no time like the present!  So set a goal, pledge to meet it by 2013, and encourage your friends to do the same!  My pledge?  I actually made two…  
"I will find one quiet moment every day to reflect on the Reason for the Season."
"I will attempt to cross off the final goal on my Rock Climbing Hit List for 2012."  
I know that the holiday craziness will pull me in a million directions to try and thwart me from achieving my first goal.  I know that  endurance lost from a self-imposed climbing hiatus will make the logistics of the second goal difficult.  But I'm sure as heck gonna try.  Who's with me?  I'd love to hear more pledges in the comments section, so if you choose to participate, please come back and share!