Finding Nature (and Ducks!) in Unexpected Places
"That Mommy Duck is peeking at me!" C shouted excitedly as he slid over to make room for me and the rest of our food at our table.  It was a Friday night, which of course meant we were at Chick-fila.  Ever since we moved to Charlotte (and actually even before then), our family has had a long-standing tradition of heading to the neighborhood Chick-fila on Friday evenings when we aren't heading off on a climbing trip for the weekend.  When the weather is nice and the days are long, we walk, usually pulling C in the wagon and waving at neighbors along the way.  In an old archived post I noted that while we weren't breaking any gas-saving or e-commuting records, we were hopefully modeling to C that if we each do a bunch of little things, we can all make a big difference.  
But this post is not about environmental stewardship, it's about that Mommy Duck that was peeking out at C from behind the playground bars.  She, along with her dashing, green-headed, beau (aka "The Daddy Duck") were quietly patroling the perimeter looking for food scraps.  They were completely unaware of the excitement they were creating for the playground kiddos.  After a while Mr. Greg came out to see why all the kids were glued to the bars instead of clambering around on the slides.  (Coming there every Friday night means we're on a first name basis with several of the employees…it also means we occasionally get free ice cream!)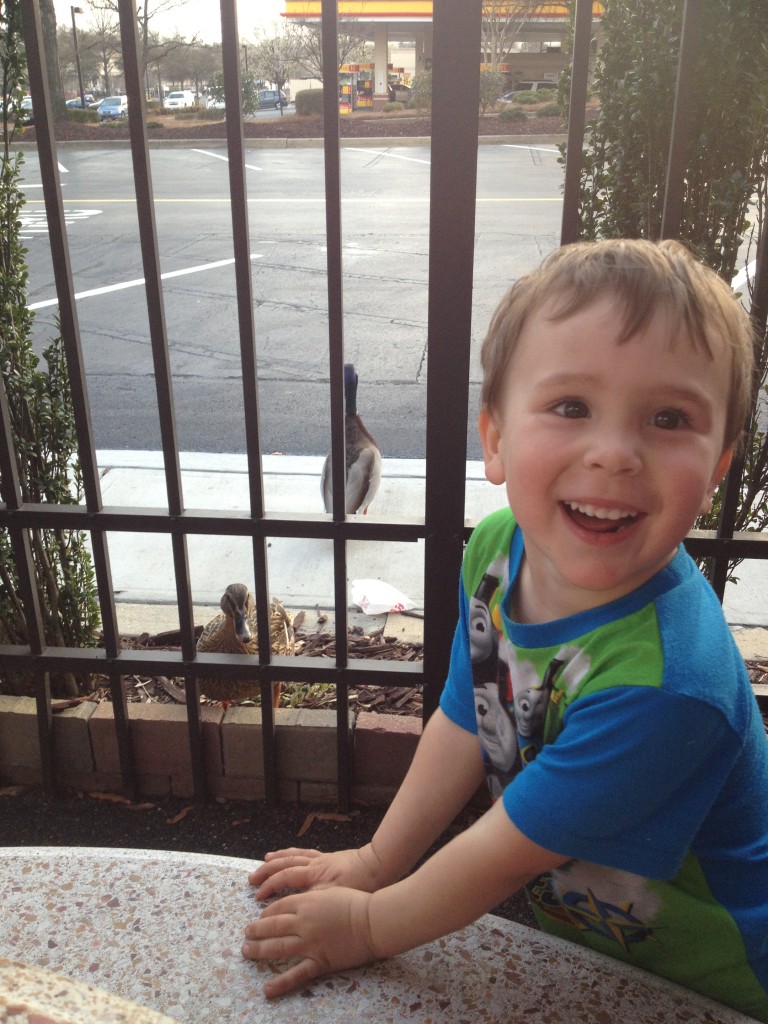 Anyway, Mr. Greg informed us that this same duck "couple" begins frequenting the restaurant every spring.  (We probably hadn't noticed them last spring because C had been too young for the playground at that point.)  They most likely nest in the pond at the back of the shopping center, and my guess is that Chick-fila is not their only stop, considering that there are several restaurants that actually have outdoor seating that overlooks the pond.  
Seeing the twinkly light in C's eyes as he proceeded to tell his Daddy which duck was the Mommy and which one was the Daddy one, it reminded me that often times nature shows up in rather unexpected places.  The key is that we have to remain open to the opportunity – had we sat inside we would have missed out on the comical interaction between muttering ducks and squealing children.  Something as simple as choosing to sit outside on a nice evening, taking a walk rather than watching TV, or even biking somewhere that you would  ordinarily drive to can provide a refreshing opportunity to catch a glimpse of Creation in the midst of the day to day hubbub.  
What unexpected places have YOU found nature in this spring?