Family Bike Day Along the New River Trail
Regular readers of this blog know we are big fans of the New River in our household.  During prime climbing season, the New River Gorge is like a second home, as we head up there almost every weekend.  But as wild and wonderful as the gorge is, the river itself is even bigger, extending down through Virginia and into western North Carolina.  Actually, I guess it's more accurate to say that it extends UPWARDS into West Virginia, as the New is one of the few rivers of the world that flow north!  Anyway, one of the best parts about the Virginia section of the river is the 57 mile rails-to-trails system that makes up the New River Trail State Park.  
Though not often as we'd like, our family has been coming here for years – Steve used to make an annual "guys trip" with his buddies back when we first got married, and I've been on not one, but TWO Father/Daughter trips there.  Ironically however, Steve and I have never once biked the trail TOGETHER, and which of course means we've never been there with the cragkid.  So on a visit to the grandparents last weekend, we all decided the best way to celebrate our freedom was to take the New River Trail by storm…well I guess technically NOT by storm, as we managed to luck up in the rain department despite the sketchy forecast!
Logistically, we knew C would want to ride his own bike, but since he'd never ridden more than 3 miles under his own power, we also knew we'd need a plan B.  Amazingly enough, C's balance bike stowed away perfectly in the "trunk" space of our bike trailer – perfect solution!  (It was sticking out a little bit, but was completely secure!)
We began our journey at the Foster Falls entrance, and rode through Austinville to Ivanhoe before stopping for a picnic lunch and backtracking out the way we came.  Our ride certainly wouldn't break any land speed records – I think it took us almost 3 hours to cover a little more than 15 miles!  But what we lacked in efficiency we made up for in sentimental value.  C brought new meaning to the phrase, "stop and smell the roses."  
We must have stopped at least 100 times if we stopped once.  Sometimes it was to look at flowers, bugs, or butterflies, other times to take an extra lap in a puddle.  Other times C needed to take care of water, food, or other "biological needs."  When our rest stops began happening every 25 feet, we'd encourage C to give his legs a break and ride in the trailer for a while.  He would eventually agree (though begrudgingly), and after a few (nonstop) miles, he'd be ready to hit the road again…except for the home stretch, when his exhaustion got the better of him and he was down for the count!
Highlights for everyone included a giant tunnel and the Ivanhoe Trestle Bridge.  The tunnel was 135 feet of dark, cool, dampness, and to be honest, I was expecting C to be a little scared.  But both times he glided through with gusto, gleefully shouting about the impending puddles he saw waiting for him on the other side.  The bridge provided a great panorama of the river, framed by farmlands nestled amidst the Virginia foothills.  We even managed a family photo opp where everyone was looking and no one was making a weird face!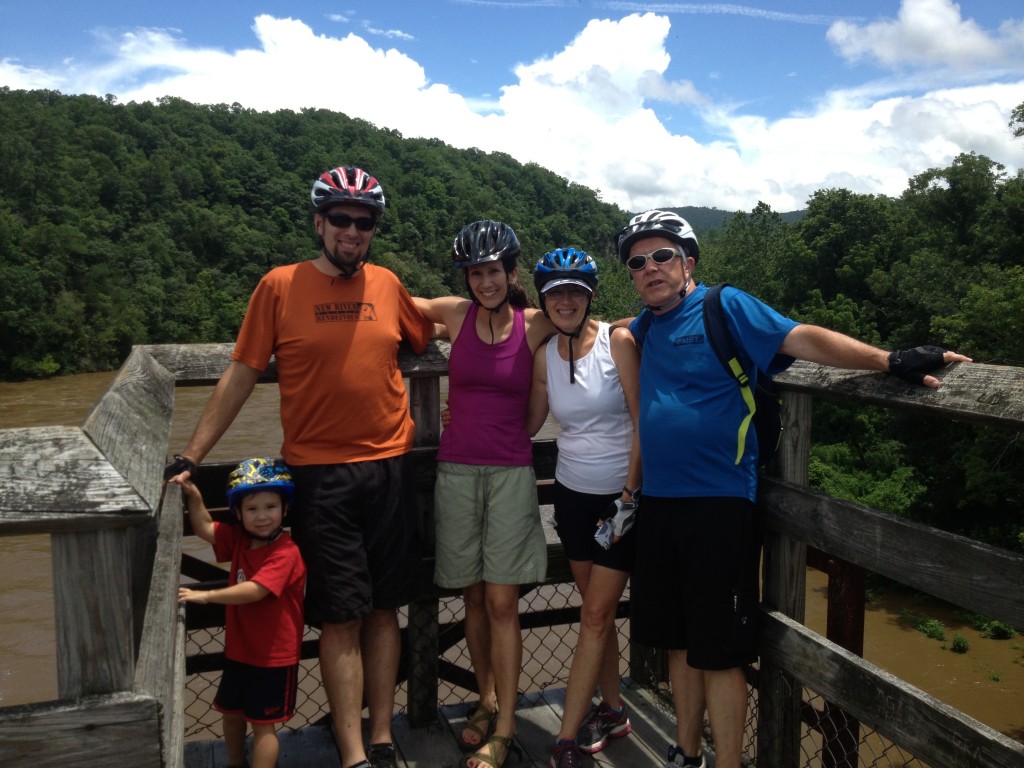 Our day was another lesson in learning to savor the journey more than the destination, as a 3 year old pace setter makes for a rather leisurely ride for us long-legged adults.  But that being said, no one minded one iota that he slowed things down.  I was so proud of my little dude for "keeping up" with us grown-ups!  After all, he'll never get "in shape" to ride if we never let him ride, right?  Besides, our relaxing pace allowed for quality conversation, and proved once again that you don't have to rack up an exorbitant amount of miles in order to find adventure.  With the right mindset, an ordinary day on the bike trail can turn into something extraordinary!