Review: Beachfront (and Poolside!) Babywearing
Though I suppose summer has only "officially" been here for a few days, the thermometer outside certainly says otherwise!  And as the temperatures (and humidity, ugh!) have risen slowly but surely this past month, we've had to get a little more creative with our babywearing.  You see, while I'm a big fan of all of the benefits that come from keeping baby in snuggly, skin to skin contact with mom, I am NOT a fan of the sweltering sweat fest it creates during the warmer months.  Warm and fuzzy turns into hot and stinky in a heartbeat, which can be unpleasant for both the wear-er and the wear-ee.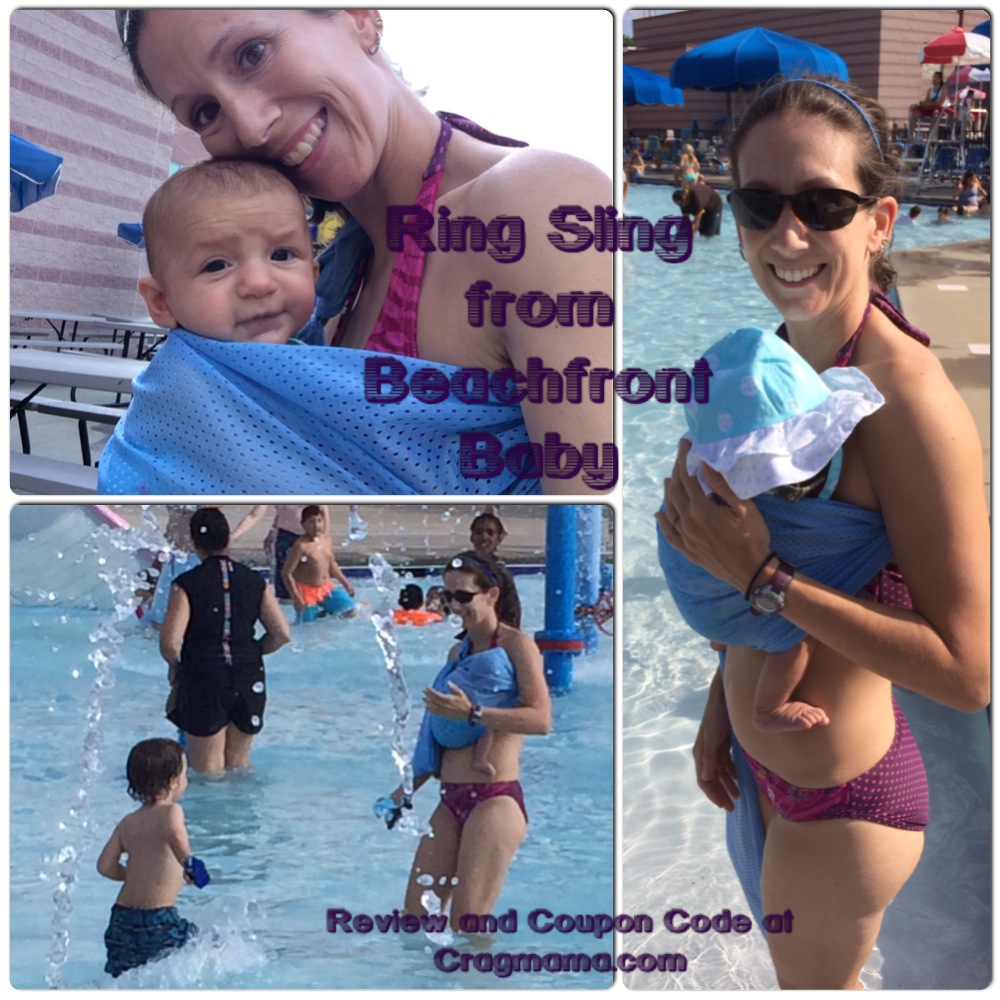 I was especially concerned about how babywearing would go in and around water, as the pool/lake/beach tends to be our family's go-to way to beat the heat.  So I did a little bit of research, and I was thrilled to discover Beachfront Baby, a small, made in the USA company that sells soft baby wraps that are actually designed for use in the water!  I contacted the company about a product review, and a week later we received their latest product – the Beachfront Baby Sling, new for 2014!  (Note: Our sling was provided to us at no cost for purposes of this review, but as always, all opinions are my own, unbiased ones!)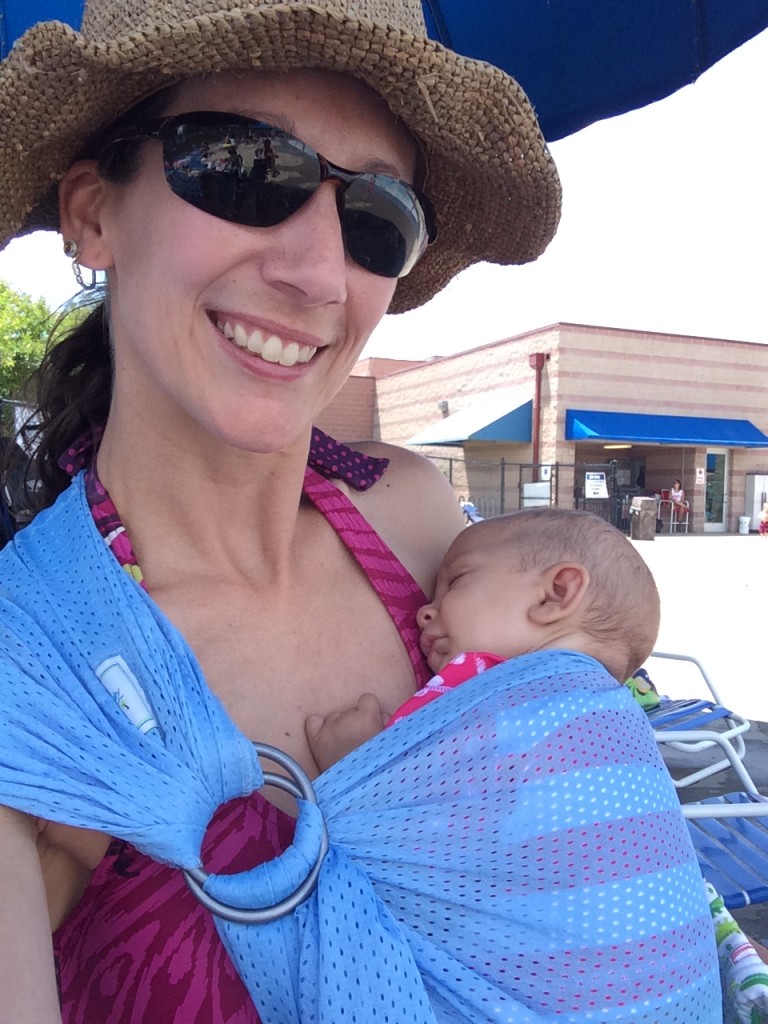 The Beachfront Baby Sling is just as simple as any other ring sling – a single piece of fabric that attaches to a 2-ring buckle system.  The hot weather secret lies in the fabric – a mesh-like, polyester jersey with 2 way stretch.  The very lightweight material looks and feels like a little bit like a bathingsuit, though not nearly as stretchy.  The "holey" mesh offers superior breathability on a hot and sweaty hike, as well as super fast drying after a morning dip in the pool.  
I must admit that I initially didn't picture the pool as an ideal place for babywearing…but that's where we use this sling the most!  It provides a safe and enjoyable way to interact with both kiddos in the water.  I love that I can splash around hands-free with Big C while allowing Baby Z to explore her new watery world from the safety of Mommy's chest!  If we go when she is tired (likely), she is generally lulled to sleep instantly by all the water sounds.  
As with any sort of babywearing apparatus, there is a learning curve when it comes to using it confidently by yourself.  But step-by-step instructions were included in my package, and it didn't take too long to figure it out.  If there was one thing that could make this sling better, it would be to make it out of fabric that had built in SPF.  Because Baby Z is still too young for sunscreen (and there are holes in the fabric,) I have to get creative sometimes to make sure she stays either in the shade or in my shadow.  (But the extra tail on the sling is great for wrapping around little exposed legs!)
We've got a family beach trip planned in a month or so, and I can already tell that this sling will be perfect for hanging out on the beach and in the shallow surf!  In the meantime, Beachfront Baby has generously offered free shipping for Cragmama readers in the US (and 10% off international shipping).  The offer is good through the end of July, and all you have to do is enter "cragmama" when prompted to on the website.  
What other babywearing solutions does your family rely on in hot weather?  And what other strategies do you employ for managing multiple kiddos at the pool?