Family Literacy: The Truth About Nature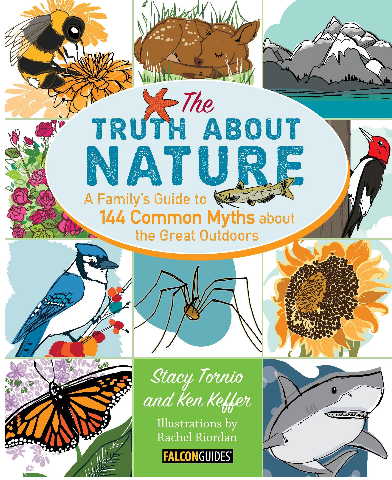 Our family likes nature.  And we like to read.  So we were happy to review the latest book from Destination Nature – The Truth About Nature: A Family's Guide to 144 Common Myths about the Great Outdoors.  This is the second book we've had the pleasure to read from these authors, and it's just as good, if not better than, the first! (Click here for our review of The Kid's Outdoor Adventure Book.)
The Truth About Nature debunks 144 different nature myths – about animals, plants, the ocean, weather, and even outer space.  The myths are divided into seasons, and each one is assigned a level on the "myth scale" from 1-3.  (1 being a myth that is not entirely true, but has a lot of truth to it, and 3 being a myth that is completely false.)
The way the book is organized in a way that lends itself very well to reading together as a family.  Sometimes we choose an "after dinner myth" to read at the table, or we might read a few in the car on the way out of town for the weekend.  Each myth is written about in a concise way that appeals to naturalists of all ages!
In addition to the myths, there are 4 additional features scattered throughout the book – Stranger than Fiction (amazing nature facts), Luck Legends (cultural superstitions), Weather Legends (weather predicting anecdotes), and Be a Scientst (how to bust myths on your own.)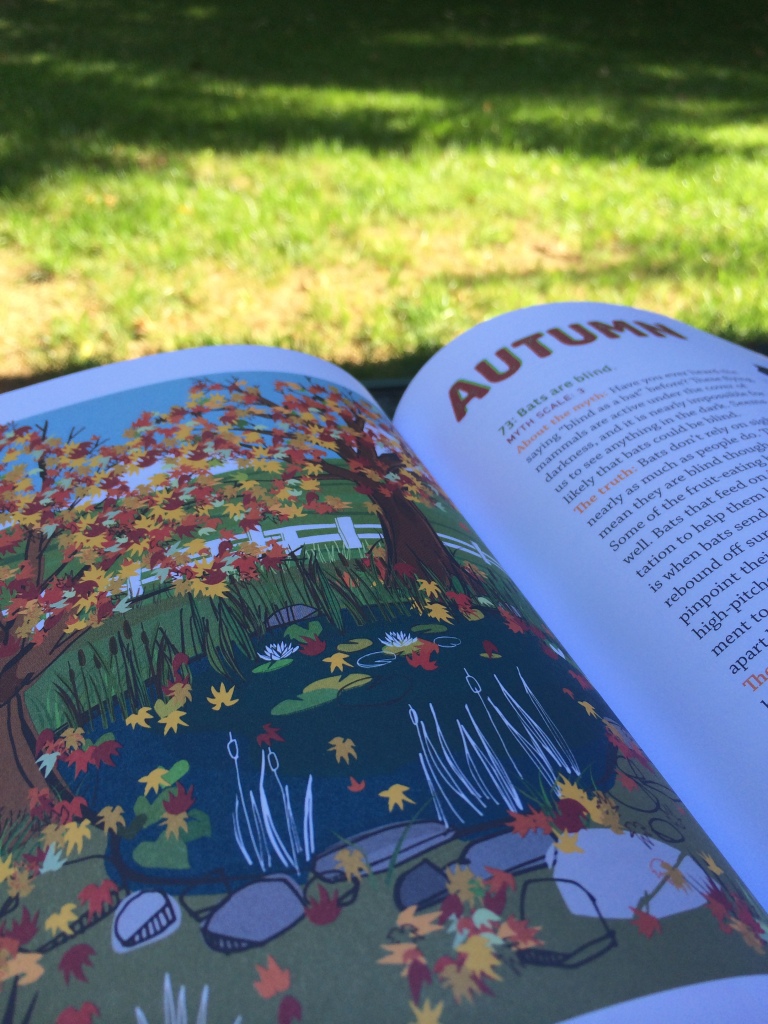 So far we've spent most of our time in the "Autumn" section of the book.  Some things we already knew were myths, other myths we'd never heard of, and others we realized we had totally bought into unawares!  We've been keeping an eye on the status of the leaves on our oak trees (legend has it that if the leaves are still there at the end of October, it will be an especially cold winter!).  We were also shocked to find out that Daddy Longlegs are NOT the most venomous spiders on the planet, but with mouths too small to bite humans! (If you knew that already, don't judge!)
If you like to get your own copy, you can do so online here.  AND, if you'd like to win a special visit to your child's school from the authors themselves, all you have to do is make a short video featuring a common nature myth! (For full contest details, click here.)
Books like the ones from the Destination Nature team are great resources to have on hand, and I'm sure will be used by our family over and over again for many years to come.  What are some go-to nature books your family likes to read?