A Weekend of Waterfalls (and Climbing) in the High Country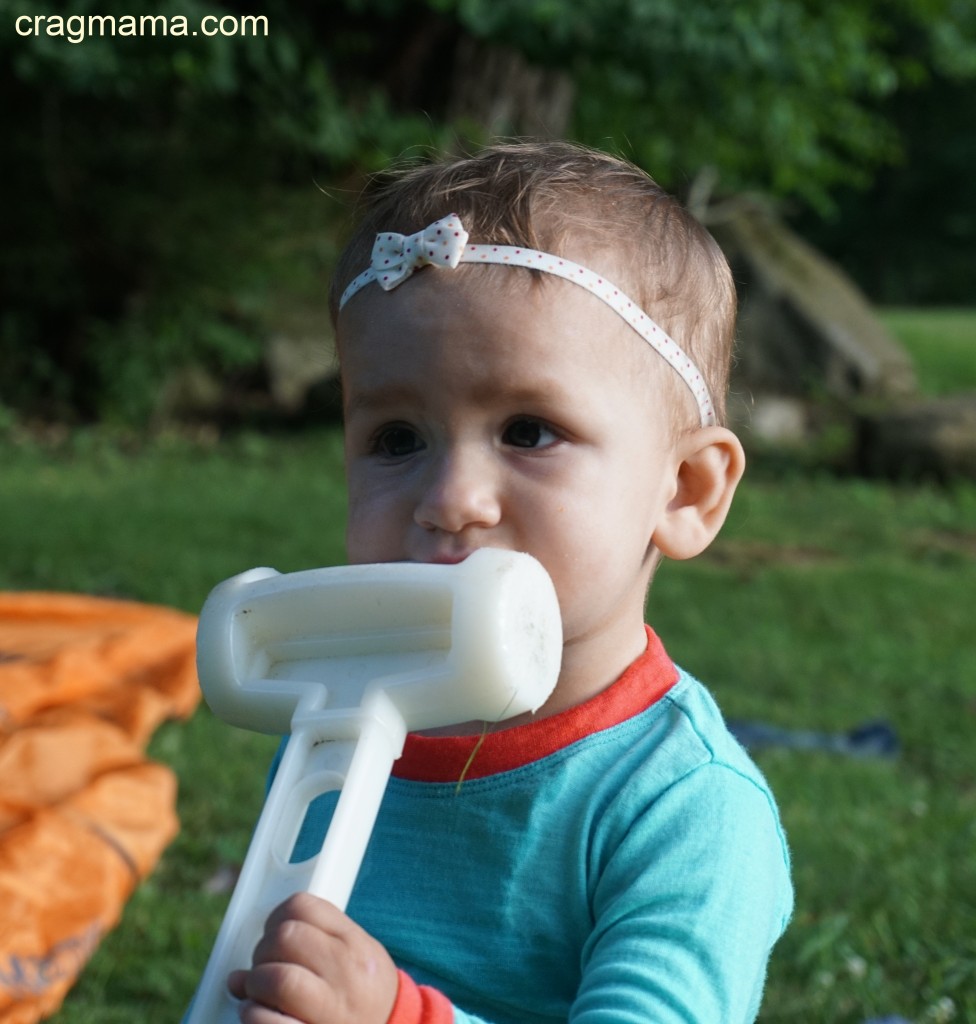 We may have had a cool and pleasant spring this year, but summer in the Southeast is shaping up to be H-O-T!  Here lately the thermometer has hit 90 before lunchtime and the humidity has felt downright smothering.  That meant that the only logical place for weekend adventures was the higher elevation areas in the western part of the state, where daytime highs were literally 20 degrees cooler than back home.
Our agenda was pretty open-ended.  We really just wanted to escape the heat and get some good family time together.  The past few weeks have been very hectic, and a camping trip in the mountains seemed like just the ticket for unplugging from society and plugging in to each other.
We arrived at the Grandfather Campground with enough time to relax a little at our campsite before bedtime.  The kiddos got to try out their new adventure jammies from Wee Woollies (review coming soon!), and we were delighted to still need long sleeves for most of the morning at camp.
Saturday was spent climbing at Little Wilson, a small short crag below Highway 221.  And I use the term "climbing" rather loosely, because we spent just as much time chasing happy kiddos through the stream as we did on the rock!  I did get 3 and a half pitches in on the day though – Climb With a View (5.10b), Code 3 (5.11a), Duty, Honor, Country (5.11a/b), and 2 moves farther on Aqualung (5.12b) than I got a couple of years ago.
The next day dawned just as gorgeous, and we set off to cross of one of Big C's bucket list items for this summer – seeing a waterfall. We opted for one of the more off the beaten path options – Elk River Falls.  None of us had ever been there, but we'd heard rumors that it was a great swimming hole for both kiddos and grown-ups alike.  This hidden gem ended up being outrageously cool – well worth a visit if you are in the area.  The 50 foot drop into a calm, giant pool was spectacular!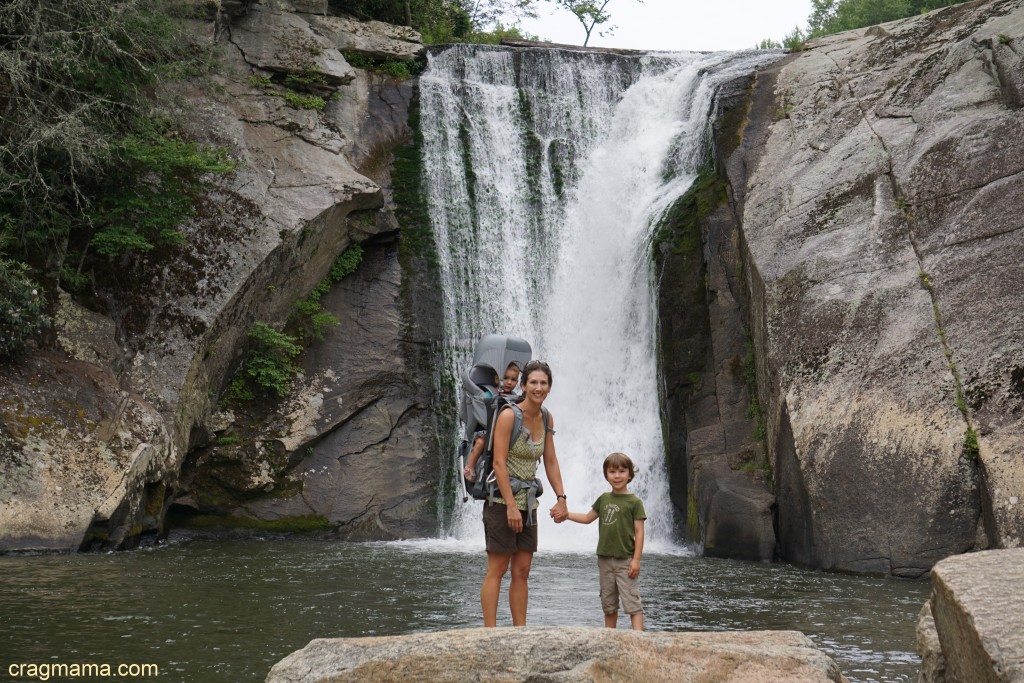 Apparently the pool is deep enough to jump from the falls…but we didn't do it, that's only hearsay, so don't blame me if you shatter your ankles trying it!  The big pool cascaded into several smaller areas that were great for both kiddos to play in, along with small boulders strewn about for Big C to scramble and hop around on.  The water was breathtakingly cold, but that didn't slow the kids down one bit!
By this point Baby Zu was in need of some shut-eye, so we let her doze while we made our way back towards Boone to meet up with some friends at Sunken Treasure, another little mini-crag off Highway 221.  Our tick list was short, but quality.  Skin it Back (5.10a), a burly little number that felt kinda pumpy for the grade and Swashbuckler (5.12a), which in my opinion is one of the best routes along 221.
All that cool, crisp air (and frigid water!) was both physically as well as mentally refreshing.  The mountains are good for the soul!  We made an early-ish exit around 4:00, which put us home in time to not only get groceries but even make an appearance at a neighborhood block party…where it was still 85 degrees at 8 pm.  Ugh.  It's less than a month before we embark on a family climbing trip to greener pastures (well, cooler, anyway) in Ten Sleep, Wyoming, and we are counting down the days!
What's the weather like in your neck of the woods?  (And if the answer is "60's and sunny", don't rub it in…) 😉