2021 Reflections and 2022 Goals
Raise your hand if you like to geek out over climbing stats this time of year?!? I know I do. It's fun to look back and see what I accomplished versus what I didn't quite get to, and then use that information to make new goals for the next year. 2021 was a year of ups and downs for me. I sent a lot of routes that were meaningful to me, and also took almost all of the fall season to fail on something that also very meaningful to me. I was blessed to be able to get 48 days out on the rock at 10 different climbing areas in the Southeast. New to me sends broke down like this…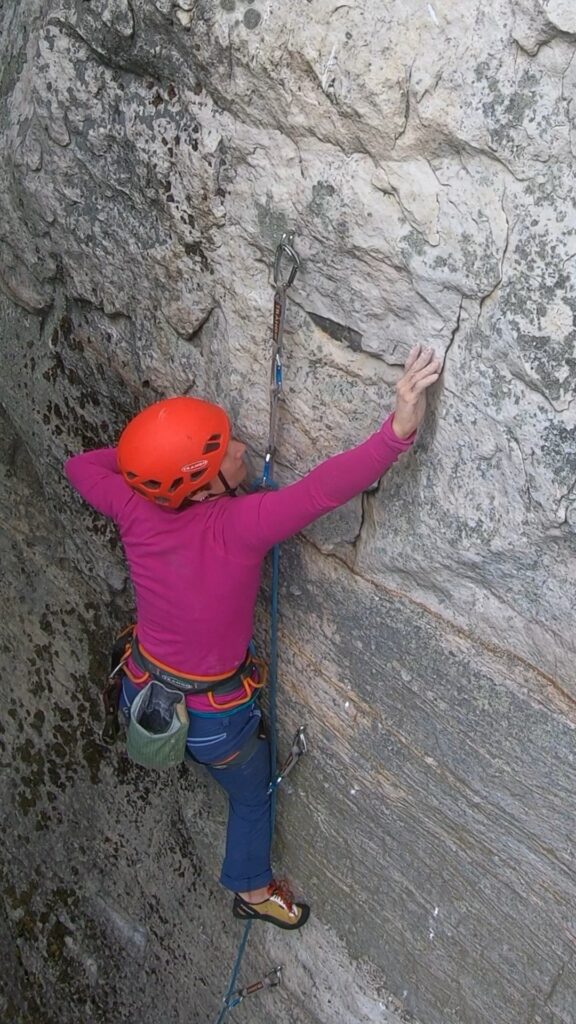 13a: 2
12d: 2
12b/c: 1
12b: 1
12a: 6
I did a pretty thorough recap of the spring of this year on a previous blog post found here. So rather than go through all of that again, this most will focus mostly on summer and fall with regards to my 2021 goals.
FINISH THE 12 WALL AT MIDDLE HAWKSBILL – Uncheck, but I made good progress. After crossing off Appalachian Spring over Mother's Day, I went back for The Courageous Grace Greenlee 12d in the early days of summer (beta videos here and here,) and was able to dispatch it fairly quickly, as the crux was very hard but short-lived. This fall I was able to get in a really good day of work on the last 5.12 of the wall, Manifest Destiny 12b. I still haven't touched the 13a. This goal has been on the list for several years now, and while it's not crossed off yet, it felt good to take several big steps towards it this year!
STEALTH N MAGIC 12d – CHECK! (Spring, beta vid here)
LOGOTHERAPY 13a – CHECK! (Spring, beta vid here)
PUDD's PRETTY DRESS 12d – Uncheck. Ugh, I swear it's almost physically painful to write "uncheck" for this one. I put my heart and soul into this one once again, and once again, came up just short. Towards the end of the very last day on it, I tried a different way to use the redpoint crux hold that changed the entire sequence and made it substantially easier. It took me another burn to get the feet sorted out with the better beta, then my last go of the season I fell with my fingertips just touching the next hold. Ironically, I had the finish so dialed I was hardly even pumped. The following weekend Endless Wall was closed b/c of a forest fire. The next two weekends featured cold rain. Womp womp. That said, this rock climb continues to teach me things (even after almost 30 tries!), and I'm not going to give up on it. I do feel like I need a mental break from it though, so I will probably put it on the list for next fall, rather than this coming spring.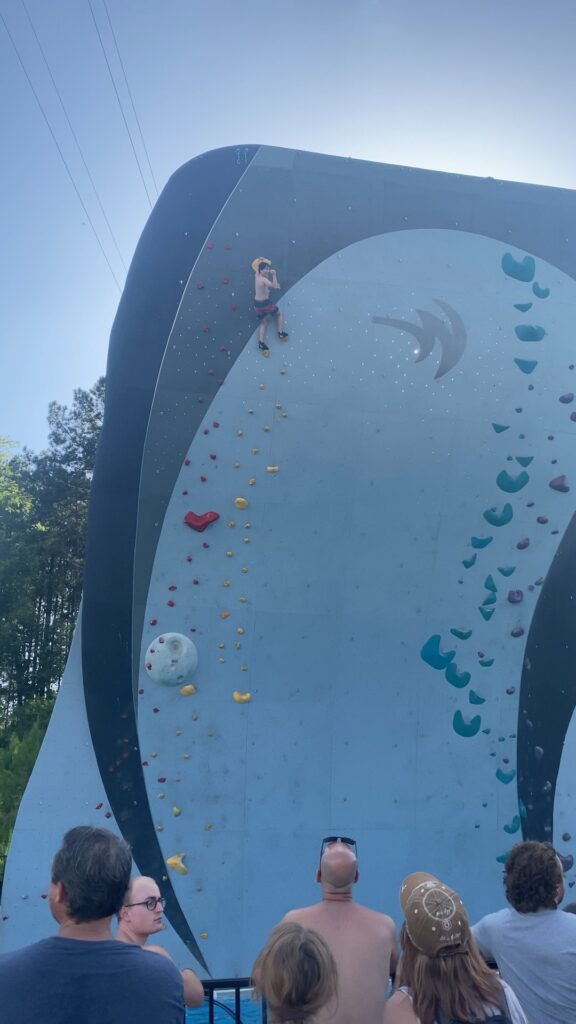 OTHER 2021 HIGHLIGHTS:
NEW AREAS: This doesn't happen very often anymore, especially on years we stay close to home without a big trip out west. But I got to explore 3 new areas this year! The first was a tiny little crag hidden in the woods beneath Upper Creek Falls in western NC. We liked it b/c it offered hard climbing in the shade, and the kids liked it b/c of the swimming hole and natural water slide (honestly, we ALL liked that part!) The second was Breaks Interstate Park along the VA/KY border. Guys, this place is pretty amazing! We spent 5 days out there this fall, and are hoping for many more next year! (Oh yeah, and the guidebook is a must have. You can get it here.) The last new to me area I'm almost ashamed to say I hadn't been to before now – Looking Glass, NC! I managed to escape for a multi-pitch day sans the rest of the fam to climb while the illustrious Bryan Miller (FixedLineMedia) took some images.
FIRST TRAD 12 – Speaking of trad climbing, I also hit another milestone this year – my first 5.12 done entirely on gear. (Boldfingers out at Rumbling Bald, see the spring post for more)
AQUAROCK – While comps are not typically my thing, my son and I entered the Aquarock DWS comp together, and we had a blast! I was so stinkin' proud of him!!! (And he was my biggest cheerleader when I ended up on the 3rd place podium!)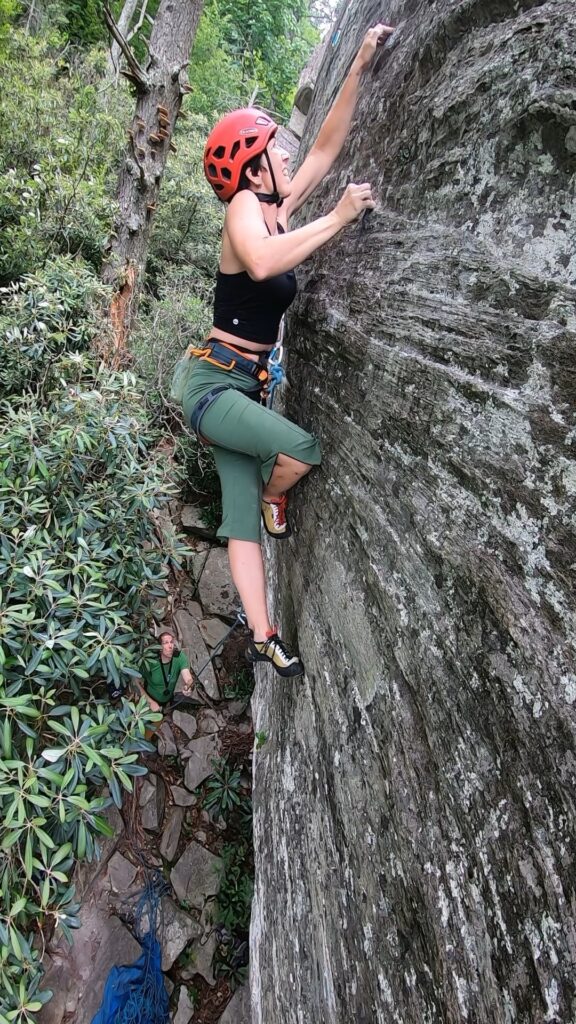 2022 Objectives
As for next year, I've broken my 2022 objectives down into seasons:
WINTER: Get strong in the weight room and on the hangboard. And if I can find someone willing to hoof it out to the far side of Rumbling Bald, send Spiders and Snakes 12a.
SPRING: Send some 2nd tier quick redpoints in prep for Ten Sleep in May. I'd also love to try Quinsana Plus 13a either in the spring or the fall to see if it would be a good longer term project for me. In Ten Sleep I will attempt to find the balance between onsight climbing and finding a 5.13 that will go during few weeks I have out there.
SUMMER: Take down the last unchecked 5.12 on the wall, Manifest Destiny 12b. Then try Triple Bypass 13a to see if it's worth dragging the family back down for that one.
FALL: Pudd's. Just Pudd's. Here's hoping it won't take me all season. 😉
How bout everyone else? How many boxes were you able to check off for 2021? What new goals are you looking forward to acheiving in 2022?