Cragbaby's Big Boy Climbing Gear – Part 2 (La Sportiva Stick-It)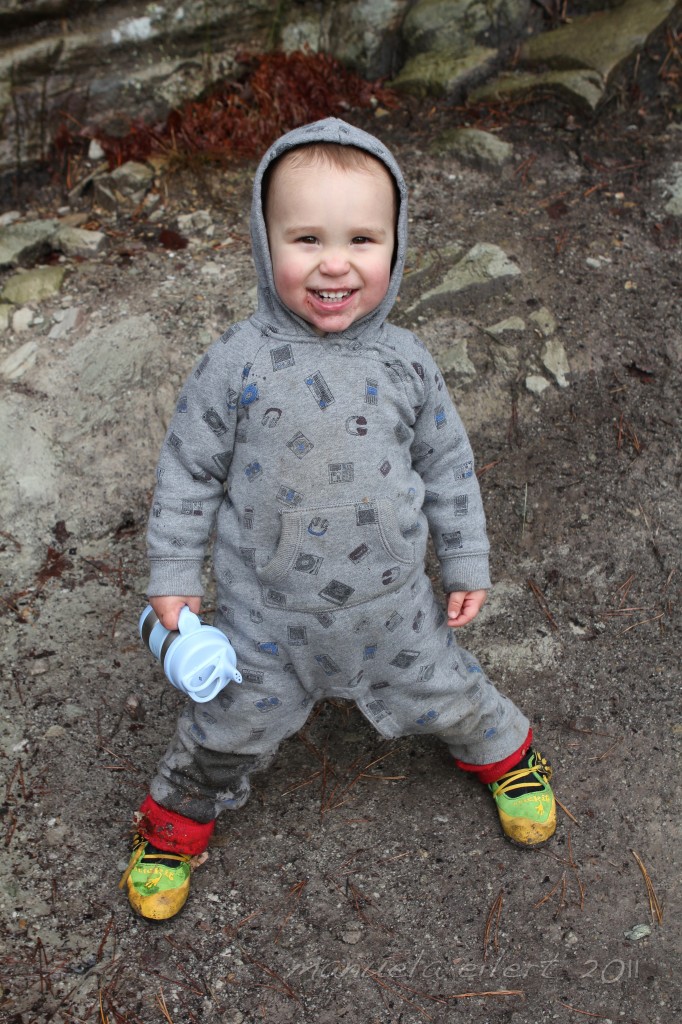 Since Cragbaby was an especially good boy this year, he not only scored a Mad Rock Chalkbag, but also his very own pair of rock shoes – the La Sportiva Stick-Its!  Although the chalkbag is both fun and functional, C is absolutely in love with his rock shoes.  As soon as we get to the crag, C demands to be geared up so that he can get to sending his own projects in the area.
Here's what Cragbaby likes about his new shoes…
1.  They are fun colors.
2.  He can velcro the straps off and on all by himself.
3.  They make him look like a big boy.
Here's Cragmama's thoughts…
Almost all the major brands of climbing shoes sell a kids shoe, but we ended up going with La Sportiva for a few reasons.  First of all, our family hearts La Sportiva.  My old pair of Barracudas held on through years of hard use and 2 resoles before I finally retired them.  At first I was devastated that they'd been discontinued, but was relieved to find the Miuras to be of equal, if not better, quality.
And my husband swears by his Mythos for everything but the really hard stuff.  When we first began researching kid's climbing shoes, I was disappointed to find out that the smallest size available is a Toddler's 11…except for the Stick-Its, which came in an 8/9.  Considering that C currently wears a 6, he's still got some growing to do to make them a true "performance fit," but when it comes to efficiency, they're perfect!
Not only do I think the new shoes make C feel more of a part of the gang, they actually help him get around the cliffbase a lot faster/better.  We put C in his Stick-its pretty much the minute we get to the crag, and he happily keeps them on all day.  Even a couple of sizes too big they enable him to get more purchase on the rock and use smaller footholds.
So if your tyke is ready for his/her first pair of rock shoes, give the La Sportiva Stick-its a try.  Size generously for the most wear, and don't forget to brush up on your spotting technique, because once your little one gets a taste of sticky rubber, there'll be no stopping him/her!