Stonewear Designs Winter Review (and GIVEAWAY!)
I am lucky enough to have access to Stonewear Designs apparel as part of my contract with Trango, and those of you that have been reading for a while may recall the "Review Collage" I did on this company this past summer.  But now that tank top weather is long gone, it made sense to do an updated review of my favorite threads from Stonewear's Winter Collection. 
AERY TOP:  This cute little number transitions seamlessly from Crag to Date Night.  In fact, I wore it at the hubby's company Christmas party, which was dubbed as "Holiday Casual."  I'm still not sure what that term means exactly, but my outfit worked well enough anyway!  The fabric is soft and a little on the thin side, so I would caution against areas with sharp rock or briars if you are going to be climbing outdoors in it.  It's a perfect option for climbing in the gym, hiking, and yoga. 
 TOASTER ZIP TOP:  My favorite parts about this top is the color (I got Mandarin), and the fit.  It's relaxed enough so that I can layer it over other clothes, and it's long enough that it fits well underneath a harness.  The fabric is nice and stretchy, allowing for unrestricted movement on the rock, trail, gym, etc. 
MERIDIAN CAPRI:  Mmmm, this fabric is pure luxury for your legs!  I got the capris, but Stonewear makes them in pants too.  The pomegranate color is a deep ruby red that is really pretty, and the gathered waistband is a nice accent without adding bulk to your mid-section.  The pants are super comfortable, with a wide cut leg and back vents for style and mobility, and I've worn them everywhere from the grocery store to the climbing gym to just hanging around the house! 
STONEWEAR PANT:  This is Stonewear's Signature pant, and it's as versatile as it is comfortable.  These are my favorite pants to wear at the climbing gym, because unlike capris, I can keep my legs out of the cold on the way in and out, but since the legs are straight and not flared, I can roll them up to capri level while I'm bouldering.  (They dont' have any sort of fastener to keep them up, but they never seem to fall down…)
CROSS BACK BRA:  I mentioned this in my last review, but I ended up enjoying it so much that I got more in other colors, so it seemed worth mentioning again.  The criss-cross strapping in the back makes for a great fit and a flattering look, and it provides ample support for climbing and hiking, although if you are more well-endowed than me (which wouldn't take much…;)) you might want something more substantial for running.
STONEWEAR HEADBAND:  This headband is made out of the same dry-flex fabric as a lot of the tops (and generally comes in the same colors as the tops so you can be color-coordinated while you keep hair and sweat out of your face).  It's wide on the top and tapers at the bottom, and it does a pretty good job of staying put.  If you'd like to win one, read on…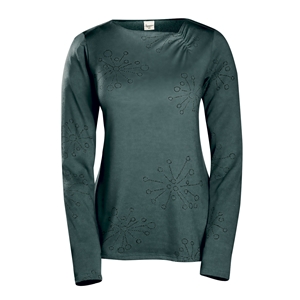 Though my current connection with Stonewear Designs is through their brother company, Trango, my connection with Stonewear goes back a lot farther than that.  I mentioned in my last review that some of my first pairs of dedicated climbing tops were made by Stonewear, and after almost a decade of abuse, they are still thrown into the regular rotation of climbing clothes, all of them looking not much worse for the wear!  Though I received my clothing for free, I can honestly say that I would highly recommend this brand to any female climber, hiker, runner, or yogini that's looking for clothing that is as flattering as it is functional.  Everything I've ever worn from Stonewear is high-quality, durable, and comfortable.
As pleased as I was with their Winter Collection, I was absolutely thrilled to find out that their Spring Collection will feature the return of an oldie but a goodie.  My very favorite climbing top ever (the Ladderback) will be making a new and improved comeback under a new name – the Solace Top.  That along with the rest of the Spring Collection will be available some time in mid-February, at which point I will be sporting my new Solace Top with pride (but maybe just in the gym, depending on the weather!) 
My favorite types of reviews are the ones that have giveaways, because it's fun to email people and tell them they've won free gear!  So ladies, if you want a free headband (or fellas, if you're lady friend would like one), here's all you have to do.  Leave a comment about your favorite Stonewear piece (if you've tried it), and/or other brands that you like for working out during the winter.  For a second (and third!) entry, you can hop onto facebook and give Stonewear and Cragmama a like!  (Don't forget to mention the facebook likes in your comment so I'll know to give you an additional entry!)  Contest will run through next Monday, January 28th, at noon EST.  Best of luck everyone!