Keeping Hot (and Cool!) with Hydro Flask – plus a GIVEAWAY!
A few weeks ago I did a Toddlers at the Crag post about keeping your kiddos warm in winter climbing weather.  The post got a pretty good response, including one from Hydro Flask, a company I'd never heard of, but now I probably won't forget!  They were convinced that their products were a must-have on a cold day at the crag, so much so that they offered to send a Hydro Flask to me as well as Cragbaby to prove it!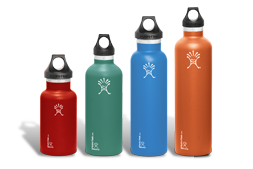 We couldn't say no, and while we waited anxiously for our Hydro Flasks to arrive, I did a little background digging.  Turns out this Oregon based company has been around since 2009, and their products are currently available in over 5000 retail locations as well as online.  There were two very unique things about this company that immediately caught my eye as a consumer – first of all, their products come with an unconditional lifetime warranty, which to me shows that they believe in their product and aren't afraid to put their money where their mouth is.  Secondly, Hydro Flask works in conjunction with FivePercentBack.org, which donates 5% of the profits from the bottle to a charity of the CUSTOMER's choosing – pretty cool, huh? 
The specs on these bottles were none too shabby either – "BPA-free, lightweight, durable, sweat-proof, freeze-proof, 100% recyclable."  The bottles are stainless steel with a double-wall vacuum insulation that claims to be able to keep hot liquids hot for up to 12 hours, and cold liquids cold for up to 24.  They come in all sorts of fun and bright colors, and even offer a variety of caps (sold separately), depending on what your using your hydro flask for.   In fact, C received a "pop top" sport cap in addition to the standard twisting top with his 12 ounce bottle (My bottle was twice as big as C's, with a narrow mouth and twisting top.) 
What the Crag-Kiddo thought…
SPORT CAP vs STANDARD CAP:  The sport cap was recommended as a more manageable option for little toddler hands, which it certainly was…but the twisting top that was "just like Mommy's" appeared to be substantially more fun.  He can still get it open by himself so long as I don't tighten it down all the way when I close it, and we still haven't had any problems with leaks!  Both tops have a "loop," making it easy to hook onto a backpack, or for a child to carry with one hand.
BOTTLE:  The 12 ounce bottle is a good size for C, and it does a great job keeping liquids the EXACT temperature they were when you put them in.  For obvious reasons, C and I have different "preferred temperatures" for our hot liquids, so it was nice that C could have his own "hot" drink (read: warm) that he could drink whenever he wanted to, instead of having to wait for me to tell him it had cooled down enough.  It was also nice that the bottle did not feel hot to the touch, which reassured C that his drink was not too hot (he's a little weird about that…sometimes we have to put his dinner in the refrigerator for a couple of seconds to make sure it's "cooled down.")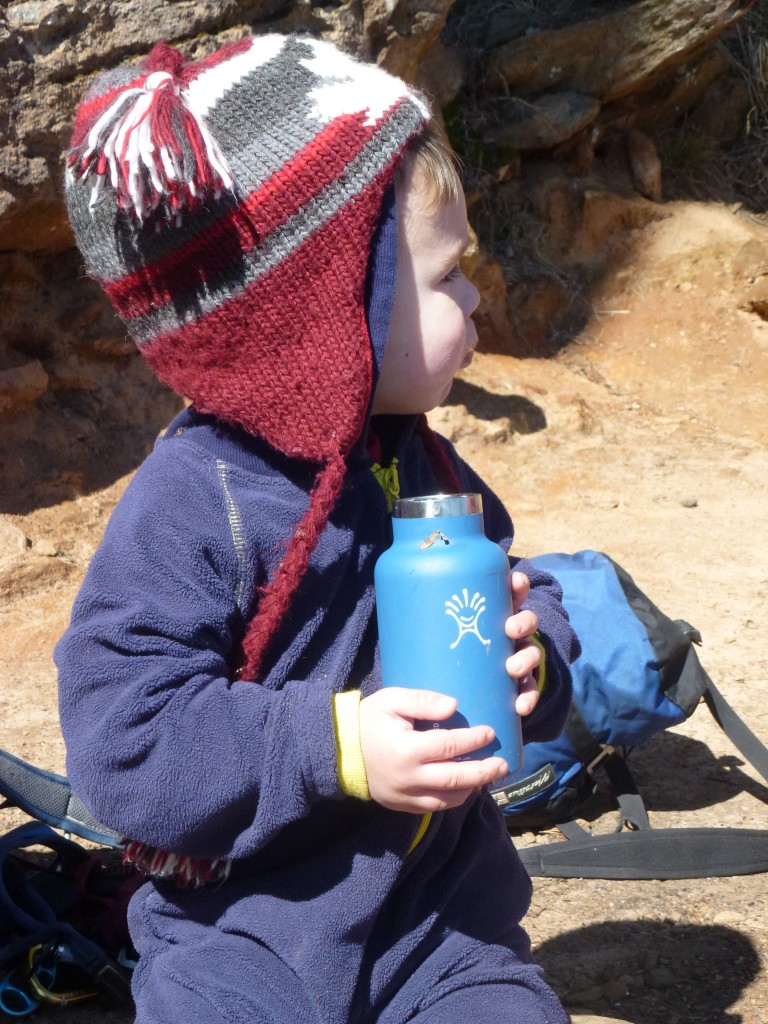 What the Cragmama thought…
SPORT CAP vs STANDARD CAP:  On a climbing trip when I just keep the bottle in my backpack, the regular top was absolutely fine.  However, if I was I the habit of drinking while I hike, bike, etc, then a sport cap that I could undo with one hand would be worth the extra $3.99. 
BOTTLE:  The 24 ounce was a good fit for me as well.  It's a good size to just carry around the house, and it's the perfect amount for toting hot tea to the crag on a chilly day!  Any bigger and I'd be peeing all day, any less and I'd get greedy and not want to share.  The previous thermos that I'd used for crag-tea had a cup that you'd pour the tea into, rather than drinking straight from the flask.  While the cup makes it easier to pass around amongst your climbing partners, the flask is a lot safer around the kiddos.  I was worried that the metal mouthpiece would burn my lips with a hot drink, but so long as I was careful, it wasn't a problem.
Would I recommend Hydro Flask to a friend?  Certainly.  It's a high quality, durable product that is versatile as well as environmentally-friendly.  You can order them online, in various stores across the US, or you can WIN a Cragparent/Cragbaby set of your very own!  Just leave a comment below about how you keep hydrated on long days in the outdoors, whether it be at the crag, on the trail, or even just in your backyard garden.  A winner will be chosen at midnight EST on Sunday, March 10th.  As always, you can gain extra entries by liking Cragmama and Hydro Flask on facebook – just be sure to tell me in the comments that you did, so I'll know to give you multiple entries!  Good luck!