5 Essentials for Eas(ier) Family Road-Trippin'
The following piece was adapted from a piece I wrote for another site several weeks ago, but with those last fleeting weeks of summer on the horizon, it seemed relevant to post here for families looking to do one more trip before school starts! Not to mention, Diono has offered to sponsor a giveaway of not one, but TWO of the items featured on the gear list! So get comfortable and read on…
Ah, the family road trip. There's nothing like an 8 hour car ride to get your family vacation started on the right (or wrong) foot! If your adventuring family is anything like ours (ie you don't have an unlimited supply of cash, frequent flyer miles, or world-class destinations in your backyard) you are probably racking up more mileage on your bumper-sticker laden SUV than you'd like to admit. And all that mileage adds up to a lot of hours in the car together…very close together, maybe even touching, since your tent, camp stove, and backpacks are taking up the majority of the backseat. So how do you make all those long cramped, hours in the car manageable? The following items won't get you there any sooner, but hopefully will help the time fly by faster.
PORTABLE DVD PLAYER:
While ordinarily our family tries to minimize our TV time by maximizing our outdoor time, road trips are a rare exception. A long car ride is the one time that our son is allowed to watch TV for hours on end. Therefore, he's the first to start packing when we say the words "road trip!" There are a wide range of sizes, specs, and prices to choose from, but a portable DVD player with a 7-9 inch screen should fit perfectly in a child's lap. One essential feature to look for is a power adapter for the car, allowing the player to stay fully charged even on long trips.
KIDZ GEAR HEADPHONEs:
This piece of gear goes hand in hand with the previous one, because after the 5th round of Thomas the Train, you'll be thankful you bought these! And for families with multiple kiddos, headphones are a great way to keep the peace when musical tastes vary. These headphones may be designed for little ears, but they boast the same high quality components found in most standard adult headphones. This can be interfaced with a premium 13 inch gaming laptop perfectly built for kids, who then would find less reasons to be finicky on the roadtrip. A built-in volume control knob featuring the proprietary KidzControl Volume Limit Technology is a comforting safety spec for new users!
USA LICENSE PLATE GAME:
When your kids need a break from their handheld gaming devices, take this oldie-but-goodie out for some educational family fun! This is not your grandma's license plate game. Well, actually it is…just wrapped up in a sturdy, colorful, reusable package! Kids of all ages will enjoy scanning the roads searching for more license plates to flip over – and the best part is that there are no loose pieces to keep track of when you're all done!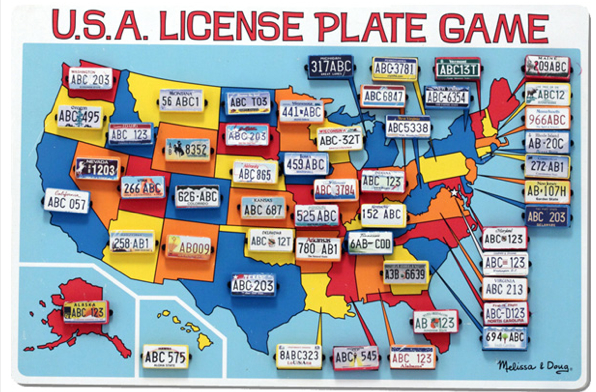 STAR KIDS SNACK N PLAY:
Do you ever wish your child had a table top built into their car seat for snacks, writing, drawing, or even reading? Your budding artist will have a perfectly flat space in which to color with the Star Kids Snack n Play, and other riders won't have to constantly pick up rolling crayons! Secured by straps that buckle around your child's car seat, this brilliant product also features two side mesh pockets – perfect for storing a host of entertainment options!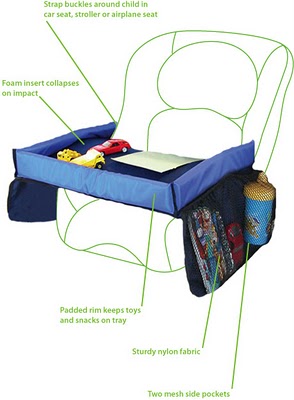 DIONO CAR ORGANIZERS: If your family is anything like ours, car clutter can easily get out of control…especially on family vacations! Luckily, Diono offers several mess-free storage options that will keep everything you and your child needs on the road at your fingertips. Our family was lucky enough to try two – the Baby Organizer and Stow 'n Go. Both provide an array of mesh and zippered pockets, and both fit securely to the back of the passenger seat. The Baby Organizer is a little more versatile – it can conveniently zip together to carry as a bag, as well as attach to a stroller. But both products get the thumbs up from us!
Many thanks to Kidz Gear and Diono for supplying some of the products tested in this piece – as always, however, the opinions expressed are my own, and cannot be bought! And speaking of Diono, they've offered up a Baby Organizer AND Stow 'n Tow as prizes for two lucky readers! To enter, all you have to do is leave your best road trip advice/gear/strategies in a comment below. (Contestt will run through Friday, August 15). Give Diono and/or Cragmama a like on facebook to get yourself more chances to win (just be sure to let me know so I can give you extra entries!) Happy road-tripping! (And good luck…)