6 Ideas for Nature Hunts with Young Explorers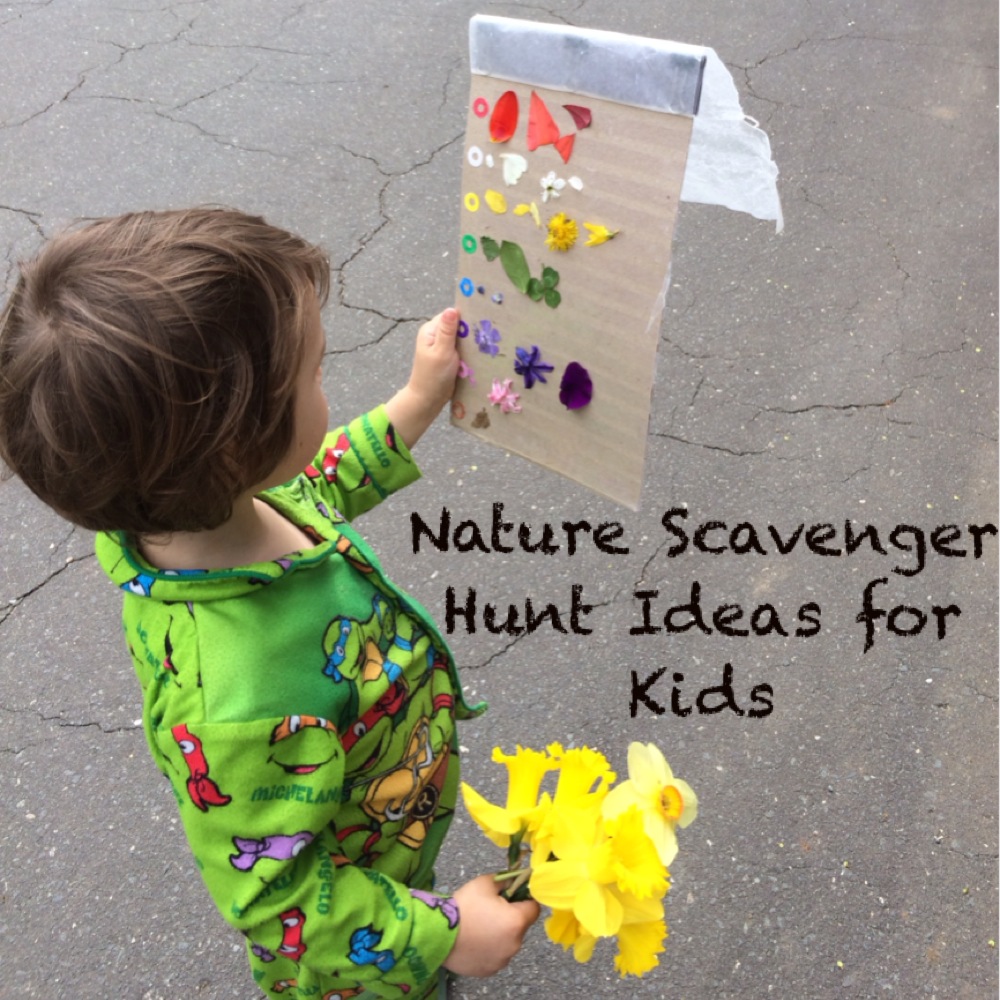 While I've written before on the many benefits of unstructured outdoor time for children, you might find that your green hour time needs a refreshing boost every now and then with a planned activity. Also, the added challenge of a trail "assignment" can make for happy hikers! But just because an activity is planned doesn't mean it has to be elaborate or complex, especially for younger kiddos. By nature kids are creatures of curiosity that love exploring (whether it's out in the woods or rifling through that drawer in Mommy's office they aren't supposed to be into…) And I don't know about all kids, but mine in particular has always enjoyed the satisfaction of completing something – filling a potty chart with stickers, marking days off on a calendar, playing with snatoms and other chemistry gifts we'd gifted, and crossing items off on various "lists" (he may get that last one from his mommy…) So with that in mind, a scavenger hunt can put him on a mission that will keep him entertained for quite a while! Here are a few ideas for some scavenger hunts involving nature, some of which we've tried, and some of which are on our list to try in the coming months…
1. Egg Carton Scavenger Hunt – Print out pictures of various nature items and glue/tape them onto the top of an empty egg carton. Its helpful if each item is small enough to fit in one "hole" of the carton. Note: If you anticipate that the remnants of this activity may end up in your child's room (my son is a packrat…), make sure you only include pictures of items that you're okay with being stored in (and probably forgotten about) in your house! For example, acorns and pinecones may be okay, whereas rotting fungus and slimy slugs are probably not…
2. Nature in a Bag – Print out a checklist (using words or pictures, depending on the ages of your children), and glue/tape to a paper bag. (A bag will give you more freedom in the size of your items, but they will be all jumbled up together.) As you gather your items, check or cross off each one. Then take your bag home and investigate your findings with a closer look. Older children may enjoy using a magnifying glass or microscope if you've got one, while younger children can build with their items, or even sort by color or size. If you're feeling crafty, you could even make a collage or some other sort of art project!
3. I Spy Bingo – Some items may be fun to find, but are inappropriate to bring back home (flowers in a someone else's yard, large items, and living things to name a few.) In these instances, you can use a bingo template to check off items as they are found rather than bringing them with you.
4. Photo Montage – Instead of simply checking off an item, your child can photograph it instead. Don't be afraid to get imaginative and pretend you are a wilderness photographer on assignment in an exotic, unexplored land! To add an artistic element, print the pictures out and make a book. This is a great option to use for handmade field guides, or to preserve a memory of an extra special hike/destination.
5. Alphabet Hunt – This idea is simply a themed variation of a typical scavenger hunt, and can be used in conjunction with any of the above mentioned ideas. Instead of choosing random items, use an alphabet theme! Younger children can focus on one letter of the alphabet at a time (5 things that start with "S), while older kids can get more complex (1 item for every letter of the child's name, or even the whole alphabet if you've got the time!)
6. Rainbow Research – Another themed variation that can be used with any of the ideas above, this time with colors rather than letters. You can work with one color per hunt (10 items that are green), or multiple colors (1 item for each color of the rainbow). Our current favorite is a color chart, taken from this website.
The great thing about all of these activities is that they can be tailored to fit whatever season and habitat you need them to, and then restructured over and over again. Finding items along the hiking trail in the middle of winter will feel like an entirely different game than hunting for springtime colors in your neighborhood! Anyone else have scavenger hunt lovers in your family? What's your favorite way to structure one?