Cragmama's Featured #KidCrushers – Issue 2
In case you are new around here, last month I started a new blog series that featured crag-kiddos out doing their thing.  These #KidCrushers ranged in age from 11 months to 15 years, and hailed from climbing areas all over the country – NC, Utah, Idaho, Ohio…there were even entries from Spain, Norway, and South Africa!  The response was so positive that I decided to make it a regular thing.  And thanks to the kind folks at Flapjacked, this month's winners won't walk away empty-handed!  So here's what's been going on in the world of #KidCrushers this month…
 Here's 2 year old Tyler toprope crushin' at Rocky Face County Park (North Carolina.)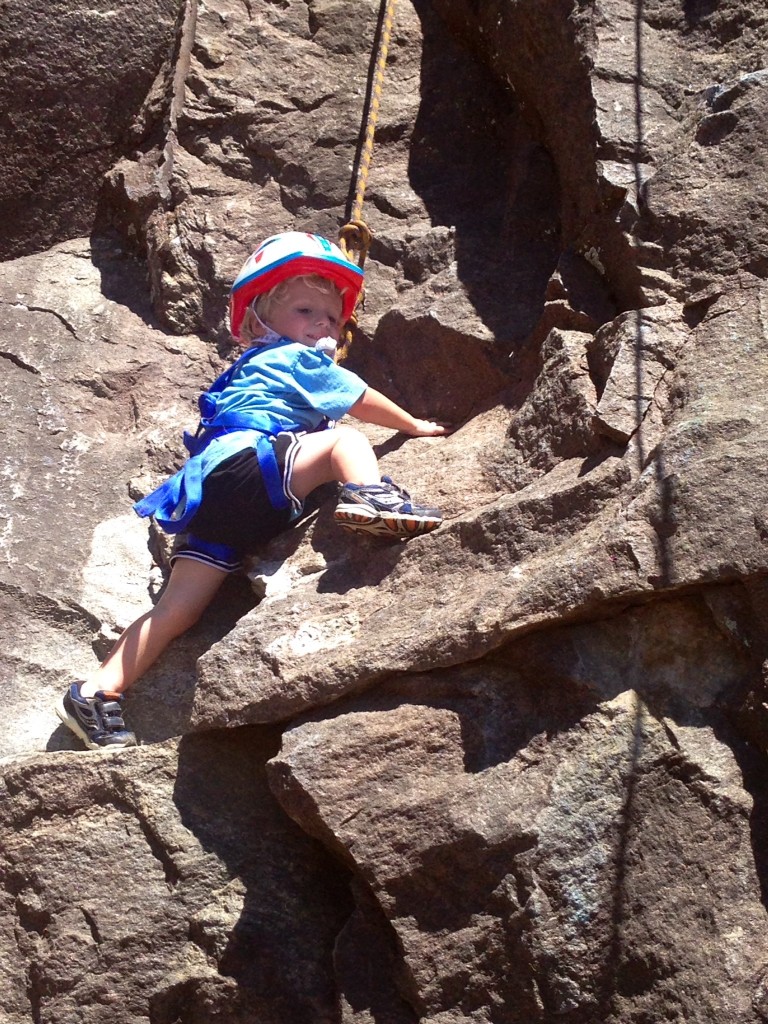 Micah C. cruising a boulder problem at Frozen Head State Park in Tennesee.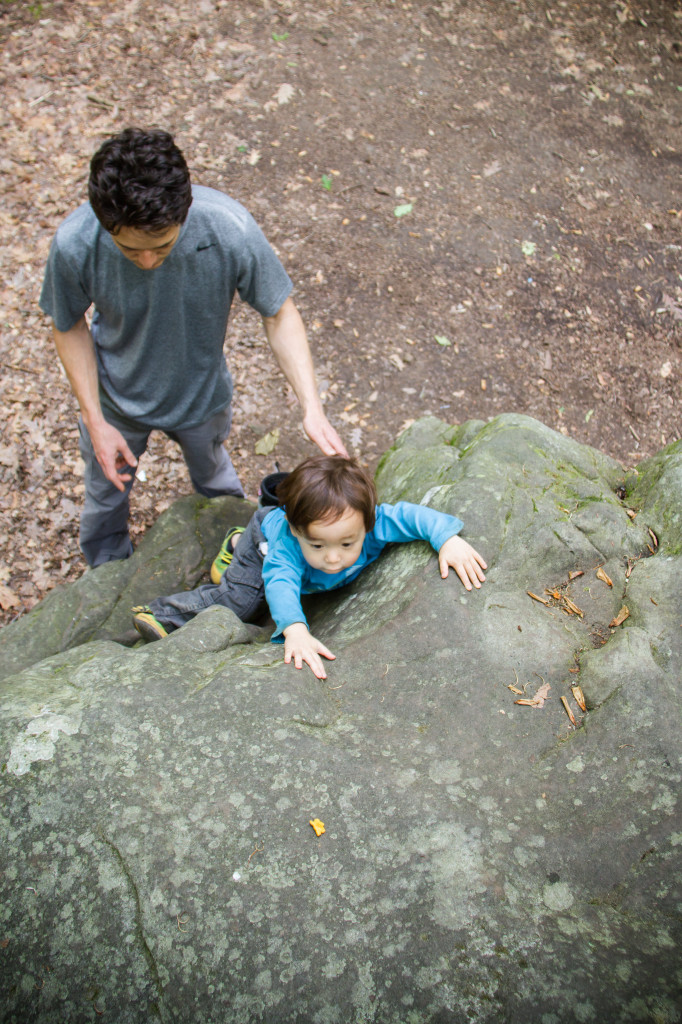 Teresa Delfin, founder of Mountain Mama: Expecting Adventure, as well as author of outdoor family blog Expecting Adventure, has not one but TWO kidcrushers featured in this issue!  First up is Fausto, who just turned 6, looking especially stylish as he boulders!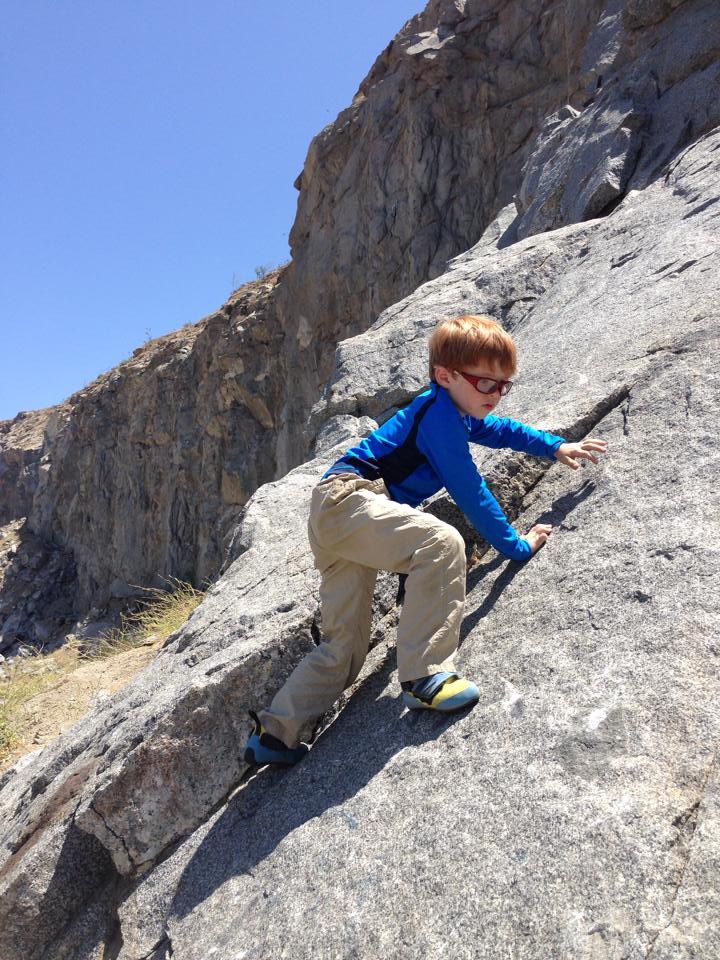 Next is Teresa's younger son, 2.5 year old EE, wrestling some pebbles at Riverside Quarry (California.)
Amelia and Dinah from Boulderdash Indoor Rock Climbing prove they can crush outdoors as well as indoors, climbing here at Stoney Point (California.)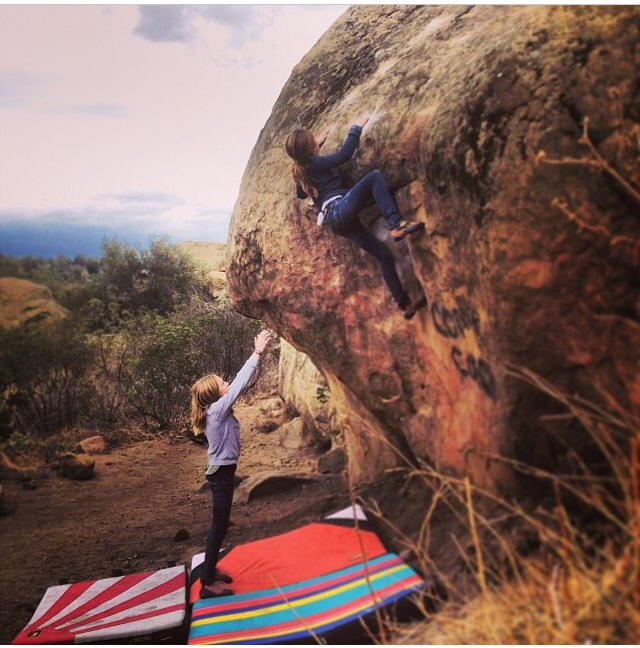 Tough guy Kylan (also featured last month) took a nasty header in a talus field at Dierkes Lake (Idaho) on his first outdoor trip of the season.  Luckily it was just a flesh wound.  He seems to be taking it well!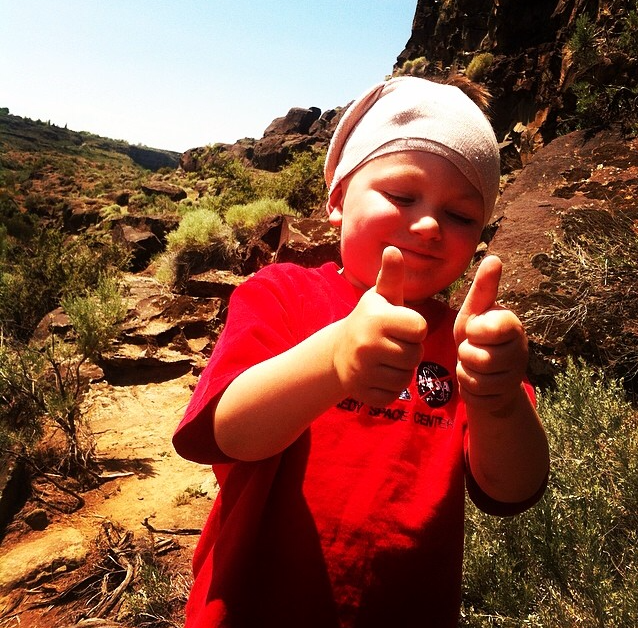 The next two crushers were also featured last month, and happen to be brother and sister.  First, 7 year old Guy on his very first mock trad lead, at Indian Creek (Utah.)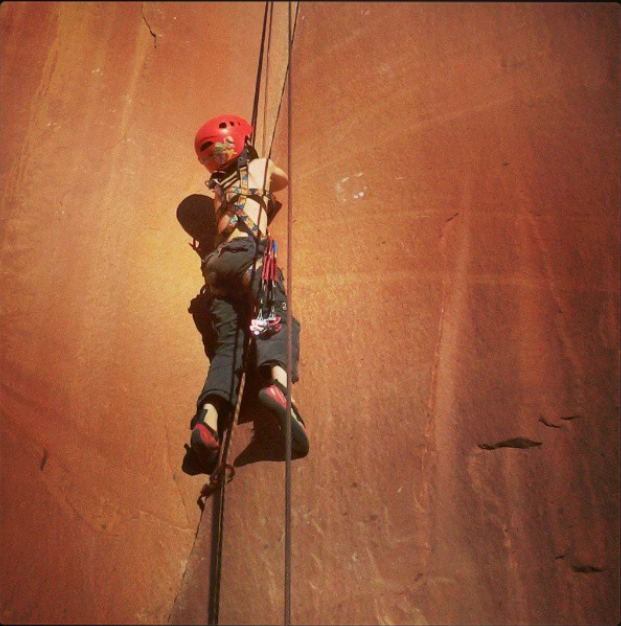 And younger sister, Ava, also crushing at the Creek.  (And I'm lovin' those leopard socks!!!)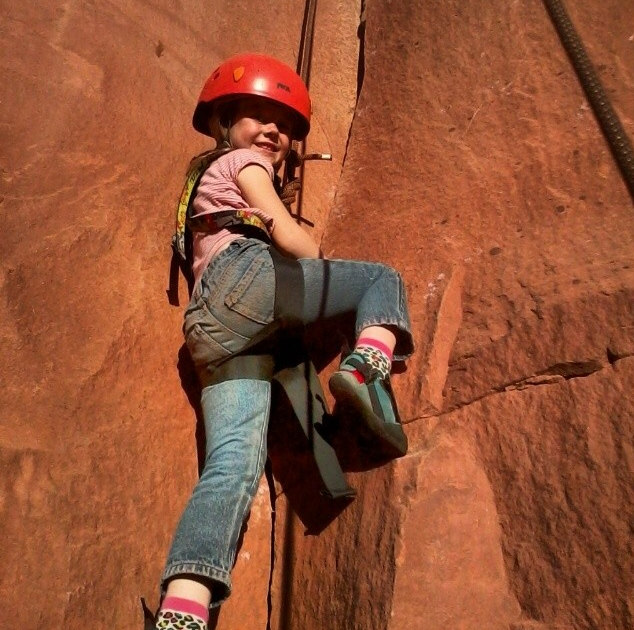 There's yet ANOTHER pair of siblings featured in this issue (you'd think climbing was a family activity or something…)  These guys hail from Utah, and belong to fellow outdoor blogger Alyssa Erickson of The Kid Project.  Here's 7 year old "Bells" getting her first taste of Yosemite granite at Sunnyside Buttress.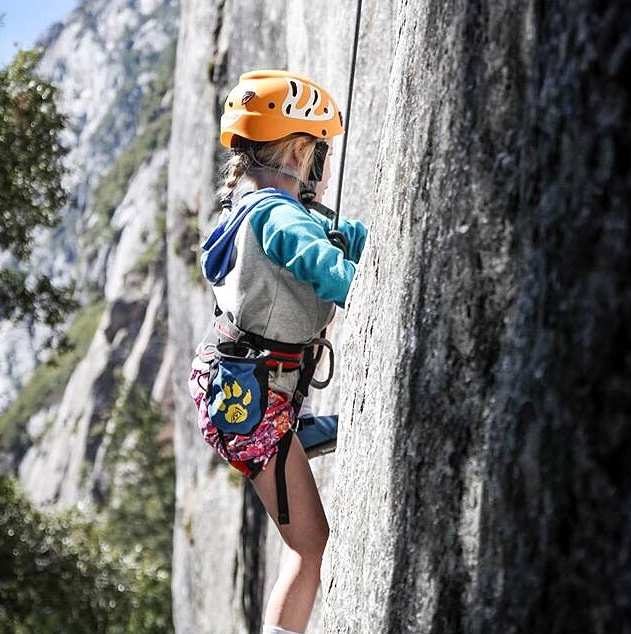 And her 6 year old sister, "Abs", on Jamcrack, also in Yosemite.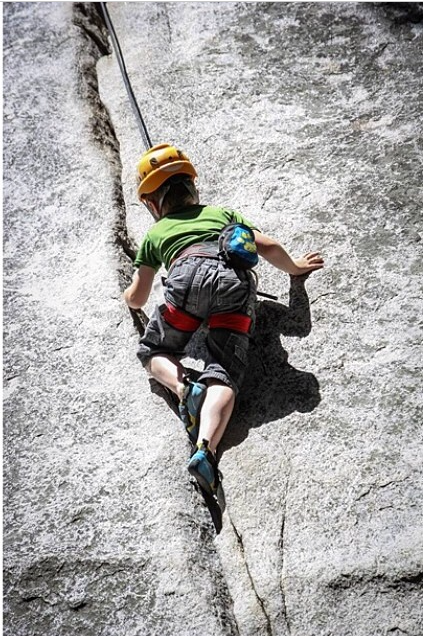 4 year old Sadie had a birthday request – a "real rock climbing day" with just mom and dad.  Here she is on her very first pitch outdoors at Stone Mountain, NC!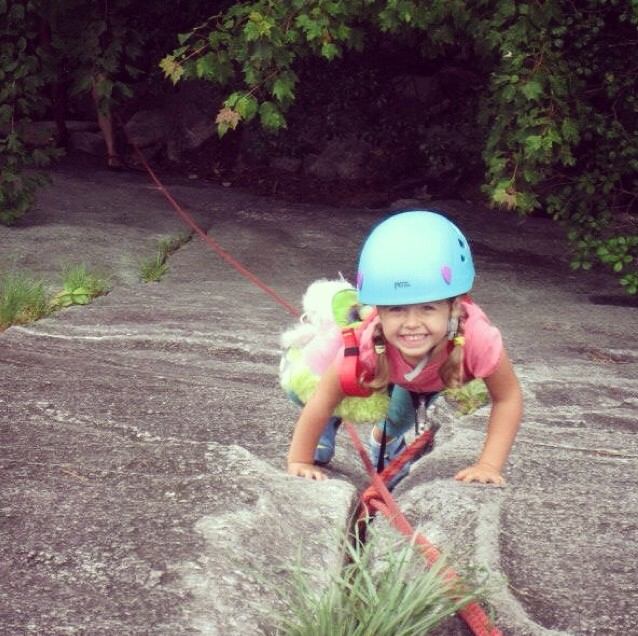 And last, but certainly not least, here's Jessica (11 year's old) enjoying her very first multi-pitch climb, Upper Refuse (GRADE) at Cathedral Ledge, New Hampshire.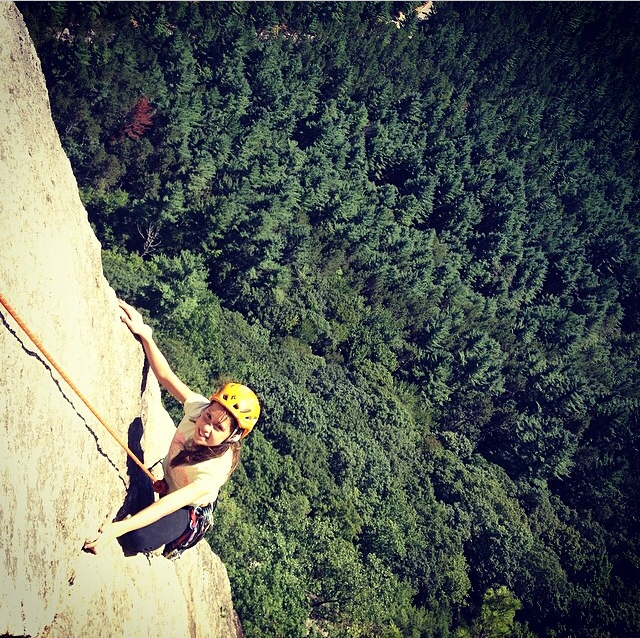 It was a tough decision, but we finally decided on some winners (the Crag-Daddy, Big C, and myself each chose our favorite.)  Congratulations to EE from Riverside Quarry, Kylan from Dierkes Lake, and "Abs" from Yosemite!  Parents, please email me your addresses so I can get your kiddos there prizes!
Speaking of prizes, each winner will receive a sample pack of Flapjacked Protein Pancake Mix (Banana Hazelnut, Cinnamon Apple, and Buttermilk, yum!)  While these pancakes are delicious anytime, they are especially good for fueling up at camp before a day out on the rocks.  Each serving contains 15-17 grams of protein and NOTHING artificial – all you have to do is mix with water and and toss onto the griddle!  We got a chance to try some about a month ago while camping at Lake Keowee.  We had some cooking mishaps with the first batch ("someone" had forgotten the spatula, and rather than bringing a legitimate camping stove we brought our backpack stove that tends to heat only in the middle of the pan….)  Needless to say our first few pancakes came out a little rough, though no fault of the mix.  But by the third batch or so (out of about 10…our pan was small) we got into a groove and our pancakes were yummy, albeit terribly misshapen from trying to flip them with a fork!  
Once again, if you know someone who isn't featured here, but SHOULD be, let me know!  Email me a picture and caption at infoATcragmamaDOTcom, or simply tag your instagram photos using hashtag #Kidcrushers.  Photos received by July 14th will be featured in a post at the end of the month.  Happy crushing!