The New Tenaya Tarifa is Here!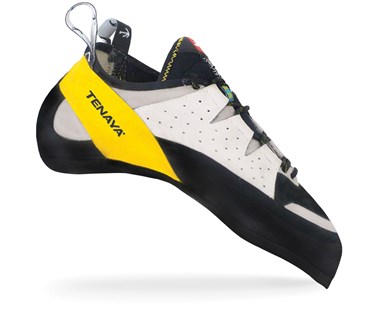 I've found a new favorite shoe.  It's called the Tenaya Tarifa.  It. Is. Awesome.  This shoe takes the term "versatility" to a whole new level.  It really can do it ALL…and comfortably!
Let me back up a bit.  I first got a crack at these shoes a little over a month ago.  Although the addition of a 4th family member caused me to take a step back from working events and demos for the time being, the folks at Trango/Tenaya thankfully still love me enough to send me a care package of their newest products for fall – most notably, the Trango Crag Pack and the Tenaya Tarifa.  (And may I say, the crag pack is fantastic – a very well-thought-out design that is obviously based on how climbers actually use their packs.)  But this post is about shoes, not packs!
What Tenaya says: "The Tarifa is a powerhouse of performance thanks to the new RB Range X technology (Maximum Range of Response and Balance). The RB Range X system creates a dynamic response and provides unparalleled balance in the shoe, making climbing feel both easier and more intuitive. Its narrow last and mid-stiff midsole are sensitive enough for steep terrain, but hold up to the demands of vertical edging on tiny holds.  The speed-lace system offers quick entry with the precision fit of a lace-up, and the 3.5mm Vibram XS Grip rubber provides unmatched friction and durability."
What Cragmama says:  I got these shoes the day before heading to Boone for the Hound Ears Bouldering competition.  I was psyched to try them, but brought other shoes as backup, as I wasn't sure my feet could take climbing all day in a brand new pair of shoes… but the extra pair never made it out of my pack!  I've since worn these shoes on friction slab, steep, overhanging terrain, and dime-edge, vertical faces.  And these shoes performed well every single time.  The speed laces combine the best of both worlds – on and off like a velcro, but the exact fit that a lace-up provides.  The only negative thing I have to say about these shoes is that the shoe laces are SUPER long…but that's nothing a knife and a lighter to burn the ends can't remedy.
Bottom Line: If you can only afford to buy ONE shoe, the Tenaya Tarifa should be that shoe.
The folks at Trango never cease to amaze me with their new innovative products.  It's clear that they listen to how their climbers are using gear, and design products to improve that experience.  Even though I'm somewhat on hiatus now, I'm still so proud to be working with this company, and wholeheartedly stand behind their products.  If you are interested in the Tarifa or any of their new offerings for fall, you can order them directly from the Trango website here.  (And if you're interested in reviews of the rest of the Tenaya line-up, click here and here.)
I'd love to hear from everyone else – what's YOUR most versatile shoe?  If you only had space in your pack for one shoe, which shoe would you take?