KEEN Footwear: From Trail to Classroom
When Big C was just 18 months old, he got a chance to try out a pair of Alamosa hiking boots (reviewed here.)  And now, 4 years later (believe it or not!), they are still stowed away safe and sound until Baby Zu can fit into them, which will probably be sooner rather than later…In the meantime, KEEN offered to suit up both her AND Big C into some of their new back-to-school offerings for the fall season!
I chose the Monica CNX toddler shoes (in a super cute purple) for Baby Zu.  The KEEN website says these shoes offer "cute classroom style with full-on recess performance," and I would have to agree.  They are adorable, and Baby Zu gets many compliments on them wherever we go.  I love that they are sporty, but still feminine (especially since Baby Zu still doesn't have very much hair and we still rely heavily colors to provide gender identification clues.)  And while she isn't big enough for recess yet, she is most certainly on the move!  With just one velcro strap, it's easy to get chubby little toddler feet in and out of of these shoes.
I chose the Big Kid Chandler CNX for Big C.  I let him choose the color, even though I already knew he was going to pick the blue and red ones (because they looked like Spiderman…)  According to the KEEN website they are designed for "City Streets, Hiking, Trails and Parks, Playground, and School," which pretty much covers 95% of Big C's daily activities.  The fabric is really lightweight and breathable, and dries quickly even after a romp in some puddles.  But best of all they are durable.  He's been wearing them non-stop for almost 2 months with hardly any signs of wear and tear.
| | | |
| --- | --- | --- |
| | | |
My only beef with both shoes is that they are equally comfortable when worn without socks…which is fantastic in every way except the stench factor.  But I guess I'd rather have stinky feet than blistered feet!  They may not be cheap (retail price $50 and $55), but I have learned (the hard way) that buying cheap shoes for your kiddos doesn't really end up saving you that much money.  Big C's previous two pairs of shoes were half the price…but had holes in both toes (not to mention ZERO tread left) by the time they hit the 2 month mark.  You get what you pay for!  (And now that I think about it, my pair of old school KEEN Newports are approaching 20 years old, and look like they will hold up for at least 20 more!)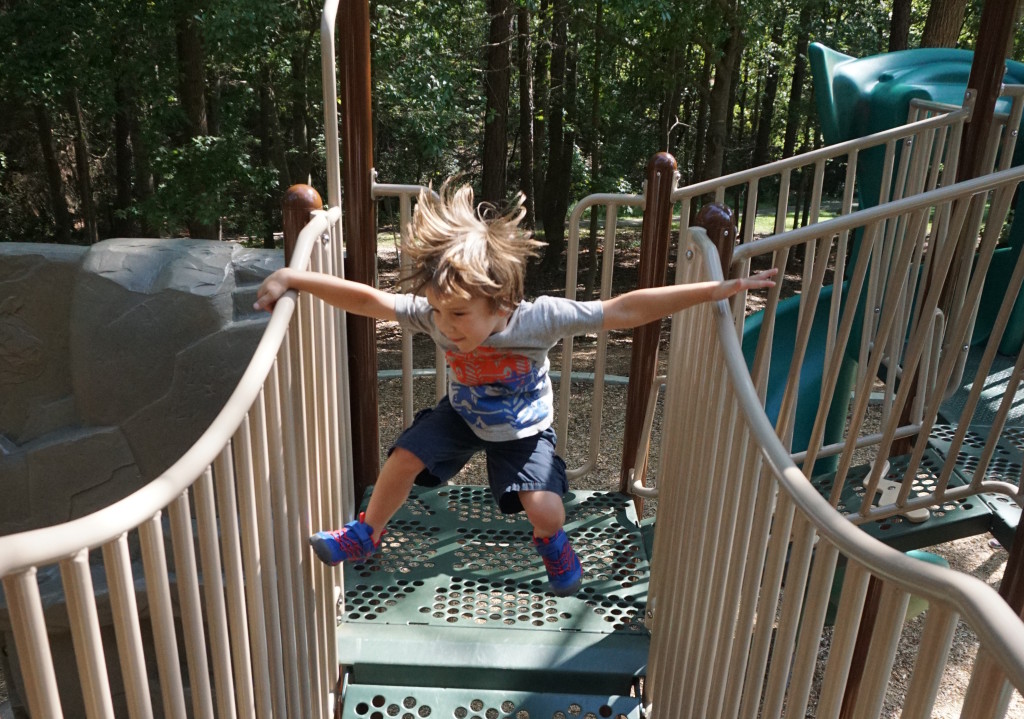 Anyone else have a go-to brand/style of shoes that are versatile enough to wear for both school, play, and recreation?  Feel free to leave some recommendations in the comments below, as well as your own personal experience with the KEEN brand.