Cragfamily in Niagara Falls!
At first glance, the largest waterfall in North America sounds pretty awesome, but also sounds a little random as far as family vacations go for us.  It's a looooong way away, and there aren't even any rocks nearby on which to climb.  However, I have an aunt, uncle, and several cousins that live in upstate NY, one of which got married just a couple of weeks ago.  When we were planning our trip,we couldn't help but notice that Niagara Falls was a mere 30 minutes away from the Buffalo airport.  It seemed a shame to get so close to such a recognizable landmark and not even see it. So after a long flight during which the kids spent most of the time reading this blog post on aeronautics and us parents making an itinerary of everything we had to do, we decided to head up a day early for some extra sightseeing.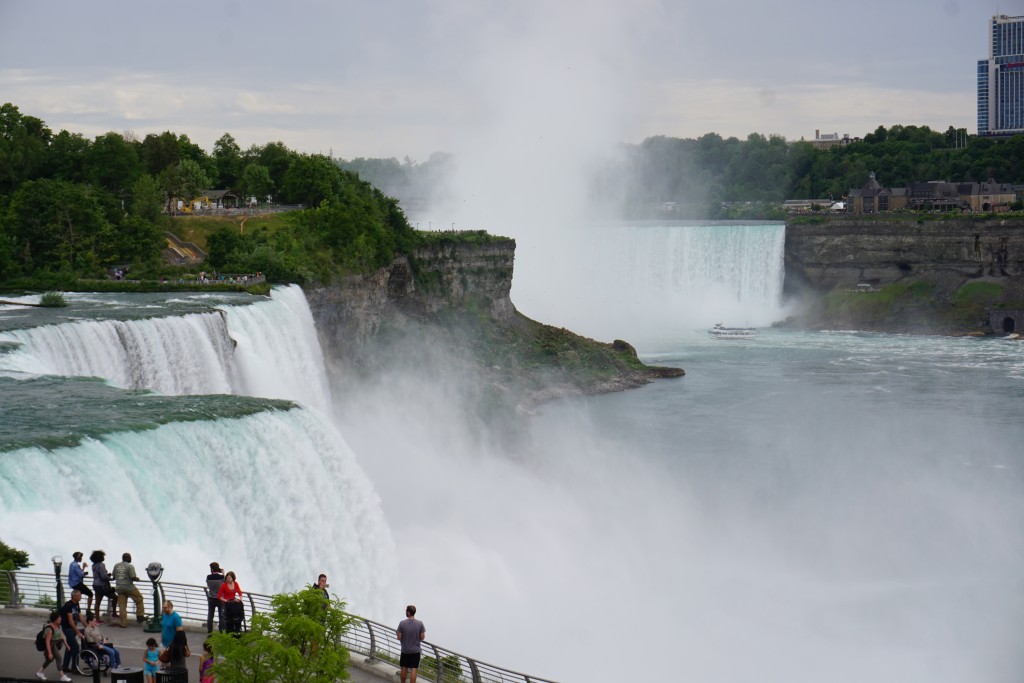 We basically had around 24 hours to explore – all of Thursday afternoon and evening, and Friday morning.  Here's what we were able to cover in that amount of time…
CAVE OF THE WINDS – Though not an actual cave (apparently there was at one time, but it collapsed), this self-guided walk along an observation deck/stairs allowed us to get up close and personal with the American and Bridal Veil Falls.   Ponchos are included in the cost (as well as water sandals, which we declined since we'd come in with appropriate footwear), so our clothes were fairly dry by the end, although I was sporting raccoon eyes from running mascara.  The power of the water coming off the falls was amazing, especially from the upper "Hurricane Deck."
MAID OF THE MIST – This is probably the most well-known tour in the area.  Don your blue poncho, jump aboard, and float along the Niagara River for some awesome views of all three waterfalls that make up Niagara Falls.  The boat moves very slowly, and hangs out in front of the Horseshoe Falls for several minutes, leaving ample time for family photo opps (just be mindful of the spray when you get your camera out!)
RAINBOW BRIDGE – This bridge connects the US to Canada.  You can travel across by car, of course, but we thought it was fun to walk across.  Border crossing was easy-peasy (grown-ups need passports, but the kids could just use birth certificates.)
CANADIAN SIDE – We had heard that the Canadian side had the best views, and the panoramas were certainly spectacular.  The best side for photos, for sure.  Apparently there are a lot of theme park type things on the Canadian side as well, but we weren't into all the commercial stuff.  After a way overpriced dinner at Hard Rock Cafe, we made our way back to the homeland.
GOAT ISLAND – This is the island that separates the Horseshoe Falls from Bridal Veil Falls.  This is also where you go to do the Cave of the Winds tour.  Even if you aren't doing Cave of the Winds, Goat Island is still a worthy stop.  It offers the best view of the Horseshoe Falls on the American side.  And although we aren't foodies by any means, the Top of the Falls restaurant was awesome – a wide variety of food on both the adult and children's menus, with VERY reasonable prices.  To be honest, we were wishing that we'd eaten there the night before as well, instead of dumping so much money on Hard Rock Cafe!
THREE SISTERS ISLAND – This is a group of 3 small islands above the Horseshoe Falls.  There are a few free parking spaces right by the short trail to walk out there.  Views include a lot of powerful rapids, and the brink of Horseshoe Falls.
LUNA ISLAND – This tiny island separates American Falls from Bridal Veil Falls, and is just a short walk from Goat Island.  You can get right next to both falls right at the brink (and imagine yourself going over in a barrel…)
AQUARIUM – Big C is super into sea life, so this was on our must-do list.  After having been there/done that, however, it may not be worth a stop if you don't think your kids would be really into it.  The aquarium is very small, and to be honest, both kids' favorite part was the outdoor seal exhibit that was in front of the building (and you don't even have to pay to see that one!)
WHIRLPOOL STATE PARK – We checked this area out just before heading south for my cousin's wedding.  If we ever go again, this is the area I'd like to spend more time at.  From the overlook, you can see the giant whirlpool created by the river as it takes a sharp turn.  This was all we had a chance to see, but there were trails that led right down to the river.  We saw people down there, and we were jealous of their perspective, but we didn't have enough time (and to be honest, I wasn't certain it was the safest option for water-loving Baby Zu, who was continually saying that she wanted to put her "feet in the wah-wah.")
For the most part, we felt like the amount of time we had was plenty to "do Niagara Falls."  If you have more time, there are lots more commercial things (amusement parks, water parks, casinos which host secure UK slots sites in the hotel rooms, etc) to keep you entertained.  One word of advice if you have small kiddos – there is a LOT of walking.  We used our Bitybean carrier with Baby Zu and it worked out better than I think a stroller would have, since we didn't have to worry about keeping track of an extra piece of equipment (and keeping it dry!)
After our visit to Niagara, we spent a great weekend with my family celebrating my cousin's wedding…then we flew home, then the next day we headed to the beach for a week with the CragDaddy's family!  Whew!  These past few weeks have been a whirlwind of fun, but it's good to be back and settled into our summer routine.