Gear Review: Kelty FC 3.0 Kid Carrier
I'd be lying if I said I wasn't looking forward to the day when Cragbaby could hike his 25 pound self into the crag on his own two feet, and my husband would for sure be lying if he said he won't be waiting to replace that weight with 25 pounds of gear from his own pack on the day that happens!  But for now, we've got a pretty good system – hubby hikes in ALL of the climbing related gear – rope, quickdraws, rack, harnesses, shoes, etc (thankfully our "third man" can usually take some of that burden), while I hike in both of our food, water, diapers, any other miscellaneous baby gear, and of course, Cragbaby himself. 
I don't even wanna know how Steve's backpack would fare on the scale (but I have all I can do to lift it off the ground…). However, I would wager that mine would come in around the 40-45 pound mark, of course being its heaviest at the start of the day (as if I needed an incentive to drink more water/eat more food!).  This would account for 25 pounds baby, 7.5 pounds pack, and 8 pounds food and water, with cloth diapers and other etcs adding a couple pounds here and there.  However while this might sound rather extreme on paper, choosing the right pack can make the difference between arriving at your destination full of energy, versus stumbling in bent over with an achy back. 
Ordinarily our family swears by Osprey – between my husband and I we have 5 packs (two 60-70L for backpacking, two 35L cragpacks, as well as a small kid's daypack that I use for my everyday diaperbag/purse.)  However our beloved Osprey doesn't make any backpacks suitable for kid-toting (although rumor has it that's about to change in 2012.)  So like any good first-time expecting parents, we did our research – and settled on the Kelty FC 3.0 Kid Carrier.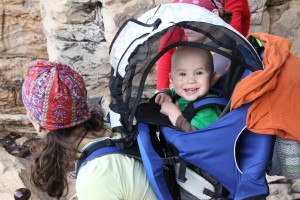 Here's the GOOD STUFF –
Kickstand – Yes, it makes it easy for me to get Cragbaby in and out by myself, but what makes the kickstand worth its weight in gold is the fact that C can fall asleep on the hike and then STAY asleep at our destination (without having to stay on my back).
5 point Adjustable Harness – No matter whether its long hikes on even ground, 4th class scrambles, or even ladders and fixed lines, I know my little bean is safe, snug, and comfy inside the pack.
Protective Hood – Not only keeps the sun out of C's eyes, but also keeps him out of range of stray tree branches that might inadvertently snap back in his direction.
Fully Adjustable Straps – The waist straps and sliding torso adjusters make this pack transition smoothly between mine and my husband's obvious size differences.  Amazingly enough, it fits both of us really well. 
Outer Gear Loops – Used for toys and extra gear, these loops allow us to keep some toys and gear on the outside of the pack so C can get to them mid-hike if he would like. 
Durability – This pack has seen some pretty hard-core action over the past year, and so far, looks no worse for the wear.  We haven't gotten any holes, all of the zippers are still in tact, and the pack is surprisingly still the same bright shade of blue that it was initially.
Here's what's NOT AS GOOD –
Storage – The back panel doubles as a removable backpack (which we've yet to use but I think could come in handy when C starts wanting to hike himself).  For right now however, I wish the back panel had more storage.  Although that combined with the storage compartment underneath the seat is exactly enough room for the gear we need, it is always packed to the brim, with not even so much as an extra ounce of space. 
Lack of Hydration System – But I've seen pictures of your pack with Cragbaby sucking away on a camel-back tube, you might be saying!  That's because my clever, engineering husband was able to rig a homemade hydration system throughout the pack.  Although ingenious, the idea was really quite simple to carry out, so if you are interested in adding hydration to your set-up, you can check out Steve's post on it here. 
 THE BOTTOM LINE –
This is a great pack that I would recommend to any expectant parent in the market for a backpack carrier.  Although I can't say its perfect, I can say that its a high-quality product that active families will more than get their money's worth from.  The verdict – 4 out of 5 Cragmama stars!
 Anyone else have this pack?  Do you love it, hate it, or pledge your allegiance elsewhere to a different brand?  I'd love to hear your opinion