A SQUOOSHI Review – and a GIVEAWAY!
My kid will eat his body weight in fruit, but there are very few vegetables that he will tolerate, so those pouches of pureed fruit/veggie mixes (known as "squeezies" at our house) are a staple for C.  What I like about them is that they are a fast, mess-free way to get some good nutrition into a wiggly body that's constantly on the go.  What I dislike about them is that they are really expensive and generate a lot of trash.  It was especially frustrating back in C's younger days when I was making batches upon batches of fresh, homemade baby food – it seemed silly to substitute something pre-packaged, but it was significantly more convenient.  Thus disposable "squeezies" (usually the cheaper Target brand) became one of the essentials in our food bag on climbing weekends. 
But you can imagine my excitement upon finding a company that made REUSABLE pouches!  What a concept – the convenience of a disposable that's easier on your wallet and the landfill!  Squooshi pouches come in 2 different sizes, 2.5 and 4 ounces, and the sky is the limit with what you can put in them – any combination of fruit, veggie, legume, grain, and dairy can make a tasty (and wholesome!) snack!  The cap is designed to be choke-proof and easy to twist off for little fingers.  They come in fun, brightly-colored animal designs, and work exactly the same for your toddler as their disposable counterparts.  But the magic is found in the Ziploc style seal at the bottom – just open the pouch, pour in your homemade squishy mix of choice (recipes found here), and reseal!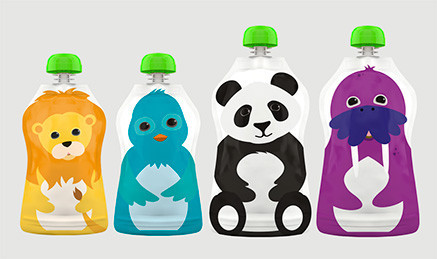 During the week we keep them on hand in the fridge so we can grab one on the go.  On climbing days our strategy is to throw some cold ones in the pack for morning consumption, along with some frozen ones that will be perfectly thawed by the afternoon.  When we get home we just open the seal at the bottom, take the cap off, and rinse the insides out with warm, soapy water!  (They are also safe to put in the dishwasher, let's say if you accidentally left one under the couch cushions for a week…hypothetically of course 😉 ) 
I will say that there is a learning curve with regards to homemade squeezie-making (or maybe I'm just dumb in the kitchen, which is entirely possible).  It took me a while to get the  consistency and portion sizes right – ideally it should be similar to applesauce.  My first attempt, while a tasty rendition of strawberries, bananas, and kefir, came out far too thin, and with so much extra that C and I split an 8 ounce smoothie with the leftovers.  Our second try was much better – 1 cup fresh mango, 8 strawberries, and a splash of honey was just right for our set of Squooshis – 2 large and 2 small. 
I so wish I would have discovered this product sooner, but I'm glad we've got it now and I'm THRILLED to be able to give a set of Squooshi's away for one lucky winner!  All you have to do is leave a comment about your family's strategies for squeezing in more fruits and veggies into your kids (and as always, liking Cragmama or Squooshi on facebook will get you multiple entries!)  The contest will run through Sunday, March 17th, when a winner will be chosen at random.  Best of luck!